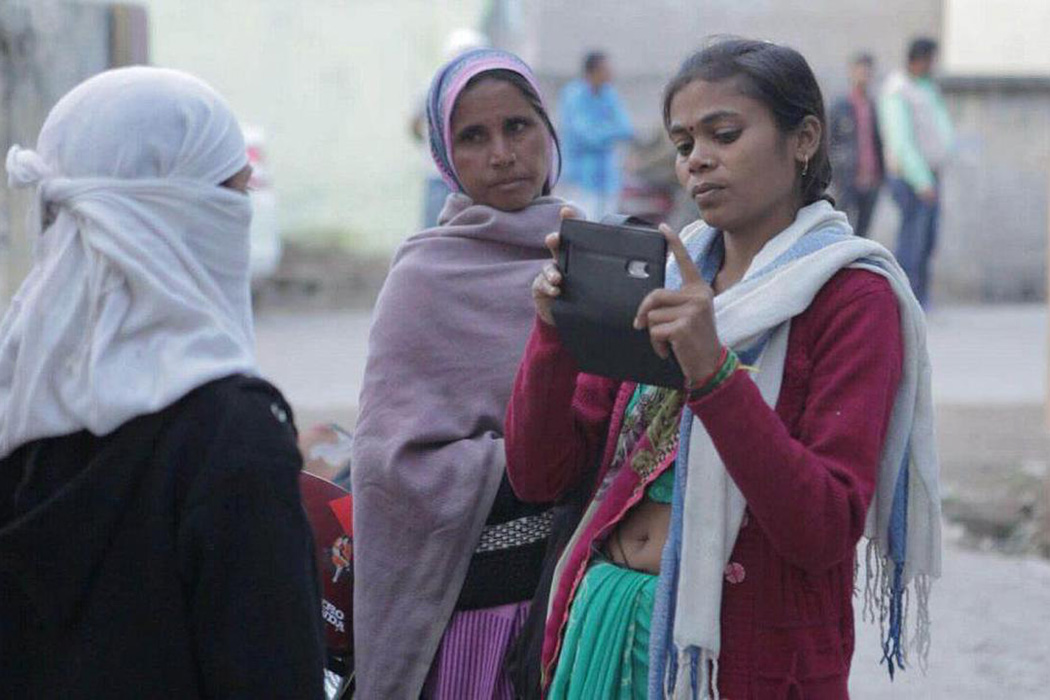 THURSDAY 10/20, 8:50 PM (SESSION 1)
Directors/Producers: Rintu Thomas, Sushmit Ghosh, Patty Quillin, Hallee Adelman, Anurima Bhargava
Description:

This Academy Award-nominated film tells the story of courageous Indian women journalists. In the cluttered news landscape dominated by men emerges India's only newspaper run by Dalit women. Armed with smartphones, Chief Reporter Meera and her journalists break traditions, both on the frontlines of India's biggest issues and within the confines of their homes, redefining what it means to be powerful.

Biographies:

Rintu Thomas is an award-winning director-producer and co-founder of Black Ticket Films, an agency that has been recognised for its unique visual language. Over the last 10 years, her shorts have ranged from themes of environment and public health to women's rights and resilience of local communities towards climate change. Her notable, multiple award-winning shorts are Dilli and Timbaktu. Rintu's films are being used as advocacy tools for social impact, included in the curriculum of universities, and exhibited globally, including at the UN Climate Change Conference and The Lincoln Center for Performing Arts – becoming catalysts for new conversations. Rintu is a Sundance Skoll Stories of Change Fellow, a South Asia Fellow with the Japan Foundation, and a recipient of the President's Medal, the highest recognition given to filmmakers in India.
Sushmit Ghosh is a national award-winning director-cinematographer from India whose work has been supported by the Sundance Institute, Chicken & Egg Pictures, Tribeca Institute, Doc Society, SFF Film Fund, IDFA, The Bertha Foundation, Sorfond, and the Finnish Film Foundation, among others. He is the co-founder of Black Ticket Films, a production company invested in the power of non-fiction storytelling. With a strong eye on social justice stories, Black Ticket Films' award-winning slate of films are being used as advocacy, impact, and education tools by institutions across the world.
Patty Quillin is a film producer of award-winning films like Athlete A, The Truffle Hunters, Belly of the Beast, and The Kingmaker. Patty strongly believes that everyone deserves the opportunity to thrive in healthy, just, and sustainable communities. This vision has guided her work for the past 25 years in a broad range of fields, from the environment and sustainable food systems to criminal justice reform and empowering women and girls. Patty is inspired by the passion of filmmakers in their mission to educate audiences and galvanize change.

Hallee Adelman is a writer and film producer. She has served as an executive producer on documentary films, including The Social Dilemma, US Kids, and Writing with Fire; and was an associate producer on The Truffle Hunters. She is the co-founder of World of HA Productions, a participant of Sundance Catalyst, a supporter of Chicken & Egg Pictures, and a Board Member of the IDA. Adelman believes in the power of story to spark important conversations.
Anurima Bhargava is a dignity and justice advocate. A civil rights lawyer by training, she led federal civil rights enforcement in schools at the US Department of Justice under the Obama Administration and directed the education practice at the NAACP Legal Defense Fund. She now heads Anthem of Us, a strategic advisory firm that promotes dignity and justice, centering equity and belonging in workplaces, schools, and communities. Anurima is also an award-winning filmmaker, advising and producing documentaries. She serves on numerous boards and chairs the US Board of Doc Society.
Contact Information:

w: https://writingwithfire.in
e: festival@autlookfilms.com

©2022 United Nations Association Film Festival (UNAFF)