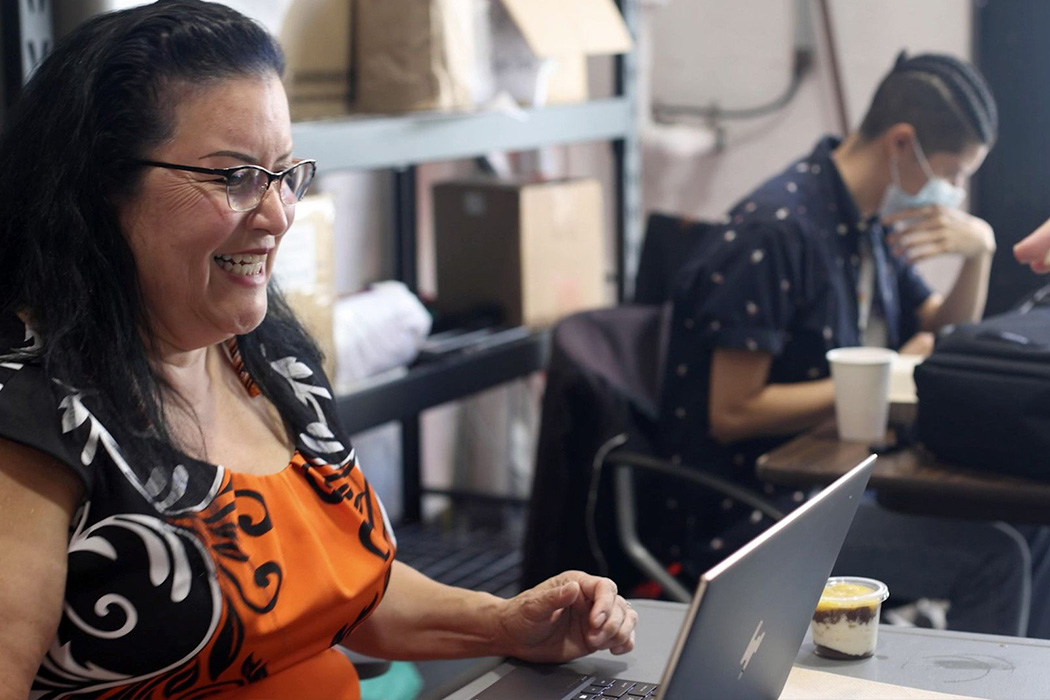 WEDNESDAY 10/26, 8:40 PM (SESSION 15)
Director:
Hélène Goupil
Producers: Hélène Goupil, Mimi Chakarova, Lydia Chávez
Description:

When COVID hits, longtime activist Valerie Tulier-Laiwa knows her neighborhood will be greatly affected. With the help of several childhood friends, she jumps into action to meet the needs of the Latino community and beyond. Her personal story isn't just what brought her here, it's what keeps her going.
Biographies:

Hélène Goupil is a French-American journalist who films, produces, and edits documentaries. She was a reporter for The Associated Press and worked as news manager at Yahoo. Helene is a film fellow and producer at Still I Rise Films, where she helped start and run a fellowship program for women filmmakers and artists. She directed and edited a short documentary that spans 10 years of San Francisco's Flower Man; the film won the Grand Jury Award for Best Short Documentary at UNAFF (United Nations Association Film Festival) and the grand prize at the San Francisco Independent Short Film Festival. Also she edited We All Break, a documentary on Haitian Vodou and jazz funded by The Shifting Foundation. A grantee of the Pulitzer Center for Crisis Reporting, Hélène produced and edited illustrated stories on the challenges low-income students have faced during the pandemic over the course of a yearlong project.
Mimi Chakarova, a photographer and filmmaker, has covered global issues examining conflict, corruption, and the sex trade. Her film, The Price of Sex, about the trafficking of women, was awarded the Nestor Almendros Award for courage in filmmaking at the Human Rights Watch Film Festival. She was also the winner of the prestigious Daniel Pearl Award for Outstanding International Investigative Reporting and a Dart Awards Finalist for Excellence in Coverage of Trauma. Chakarova is the founder and creative director of Still I Rise Films, a documentary series about resilience and rising above the odds. In 2021, she set up a fellowship program for women filmmakers and visual artists in need of support and mentorship. Mimi Chakarova is the recipient of the Dorothea Lange Fellowship for outstanding work in documentary photography and the Magnum Photos Inge Morath Award for her work on sex trafficking. Other awards include a People's Voice Webby and a nomination for a News and Documentary Emmy Award.
Lydia Chavez started as a reporter for the Albuquerque Tribune, later moving on to Time magazine, the Los Angeles Times and The New York Times, where she served as El Salvador and South American bureau chief. She has also written op-ed pieces for The New York Times, Los Angeles Times and San Francisco Examiner and magazine pieces for The New York Times and Los Angeles Times Sunday Magazines, as well as George magazine. She is the founder and executive editor of Mission Local, a news site covering the Mission District.
Contact Information:

w: https://helenegoupil.com
e: helenegoupil@gmail.com

©2022 United Nations Association Film Festival (UNAFF)