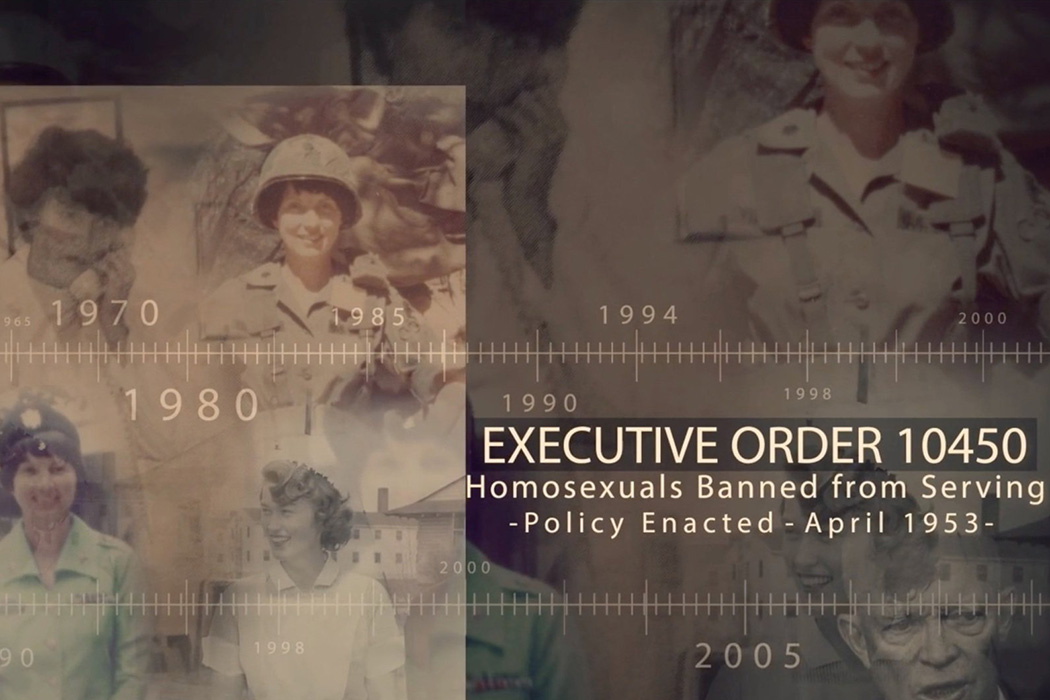 SURVIVING THE SILENCE: THE UNTOLD STORY OF TWO WOMEN IN LOVE WHO HELPED CHANGE MILITARY POLICY




(79 min) US



SATURDAY 10/22, 7:00 PM (SESSION 6)
Director: Cindy L. Abel
Producers: Marc Smolowitz, Cindy L. Abel
Description:

In 1992, Colonel Pat Thompson was a decorated Army nurse, only two years away from retirement. She was asked to preside over the military review board that eventually dismissed Colonel Margarethe Cammermeyer for admitting she was a lesbian. Although Thompson had served her country with distinction for over thirty years—from conflict zones in Central America to working inside the Pentagon—that appointment was perhaps the hardest. In that moment, she had to protect her own life secret: that she, too, was a lesbian and had lived privately with her life partner, Barbara Brass for many years. At the time, the story of Cammermeyer made national headlines, fueled in part by President Clinton's push to allow gays and lesbians to serve openly in the military. In 1995, Cammermeyer published a successful memoir Serving in Silence which was further adapted into a made-for-TV movie executive-produced by Barbra Streisand and starring Glenn Close.
Biographies:

Cindy L. Abel formed Atlantis Moon Productions in 2007 to develop film-related projects that launch conversations and impact popular culture. She directed and produced the award-winning film, Breaking Through, a documentary in which openly LGBT elected officials share their stories of self-doubt and triumph, revealing a deeply personal, rarely-seen side of politicians. In partnership with director Giovanni Coda, Abel produced two internationally-acclaimed films, Bullied To Death and Xavier. Both avant-garde Italian-American co-productions intertwine cinema, photography, and performing arts. Abel also combines her experience in managing multi-million dollar, award-winning communications projects with filmmaking to create content for corporate and public affairs clients. She was named Best Filmmaker by GA Voice and served as National Co-Chair of the Gay & Lesbian Victory Fund, Vice-Chair of Atlanta Film Festival, and Vice President of Communications of Women in Film & Television Atlanta.
Marc Smolowitz is a multi-award winning director, producer, and executive producer with 25+ years of experience across all aspects of the entertainment and media business. His career focus has been on powerful social issue filmmaking across all genres. His long list of credits includes films that have screened at top-tier festivals—Sundance, Berlinale, AFI Docs, IDFA, Tokyo, Melbourne, among others—and been released worldwide. Select titles include: The Nine, The Watermelon Woman, Desert Migration, Keep the Promise: The Global Fight Against AIDS, and the Academy-Award nominated The Weather Underground.

Contact Information:

w: https://survivingthesilence.com
e: cabel@atlantismoon.com

©2022 United Nations Association Film Festival (UNAFF)