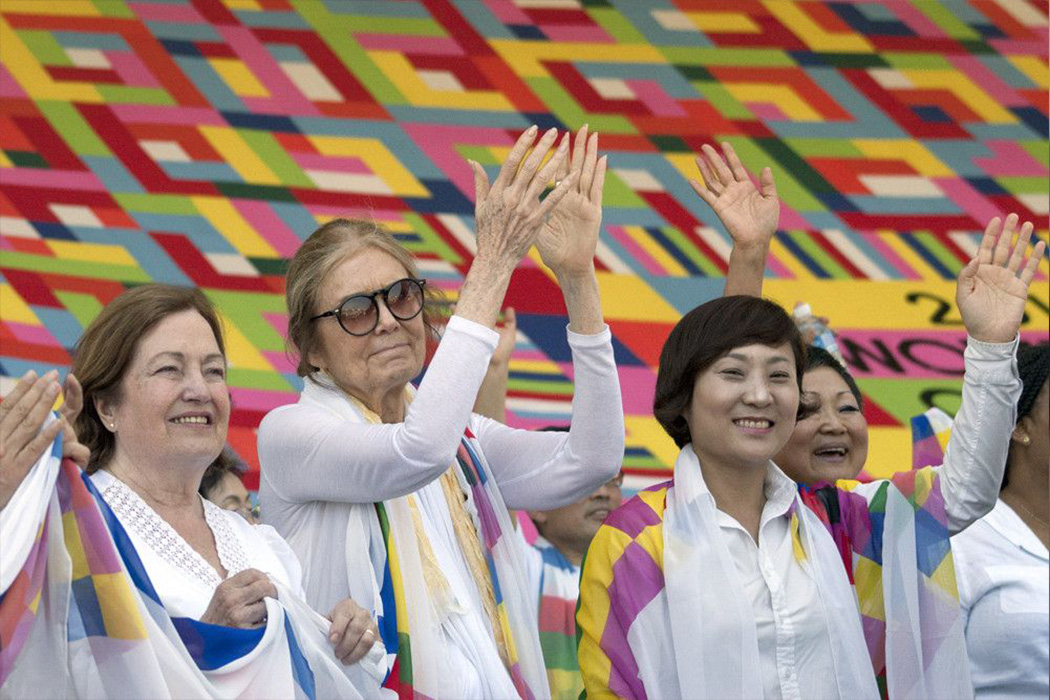 SATURDAY 10/29, 1:45 PM (SESSION 20)
>

Director:
Deann Borshay Liem
Producers: Deann Borshay Liem, Ramsay Liem, Sarah S. Kim
Description:

Although the Korean War was halted by armistice in 1953, the warring parties never signed a peace treaty. Nearly 70 years later, the threat of renewed fighting looms as American troops continue to occupy the Korean peninsula, North and South Korea remain adversaries, and millions of Koreans are tragically kept apart from their family members. The film's protagonists are thirty women activists from across the globe who dare to tread forbidden territory in order to draw global attention to the unresolved war and demand a seat at the table in bringing about peace. Korean American Christine Ahn rallies the group, which includes feminist pioneer Gloria Steinem, Nobel Peace Laureates Leymah Gbowee and Mairead Maguire, former Army Colonel Ann Wright, and Code Pink co-founder Medea Benjamin. The intrepid team faces daunting logistical and political hurdles as they make their way toward the DMZ.
Biographies:

Deann Borshay Liem has over twenty years of experience working in development, production, and distribution of independent documentaries. She is the producer, director, and writer of the Emmy Award-nominated documentary, First Person Plural, and the award-winning films, In the Matter of Cha Jung Hee and Memory of Forgotten War. She served as executive producer for Kelly Loves Tony, AKA Don Bonus, On Coal River, Ishi's Return, Breathin, andThe Eddy Zheng Story. She also co-produced Special Circumstances and Burqa Boxers and acted as story editor for the award-winning film, The Apology. She previously served as the director of the Center for Asian American Media, where she supervised the development, distribution, and broadcast of new films for public television and worked with Congress to support minority representation in public media.
Ramsay Liem is Professor Emeritus of Psychology and Affiliated Faculty in the Center for Human Rights and Social Justice at Boston College and is also president of the Channing and Popai Liem Education Foundation that fosters understanding of U.S.-Korea relations.

Sarah S. Kim is a creative producer based in New York. She produced the critically-acclaimed film, August at Akiko's, directed by Christopher Makoto Yogi, which premiered at Rotterdam and was released by Factory25. She's currently in post-production on I Was a Simple Man, which has been supported by the Sundance Labs and Sundance Catalyst, Film Independent, IFP and the Jerome Foundation. She's produced several international co-productions, including a North Korean film called, The Other Side of the Mountain, which is in the National Korean Film Archive. She also co-founded the distribution initiative, Sentient Art Film.
Contact Information:

w: https://mufilms.org
e: dborshay@gmail.com
©2022 United Nations Association Film Festival (UNAFF)