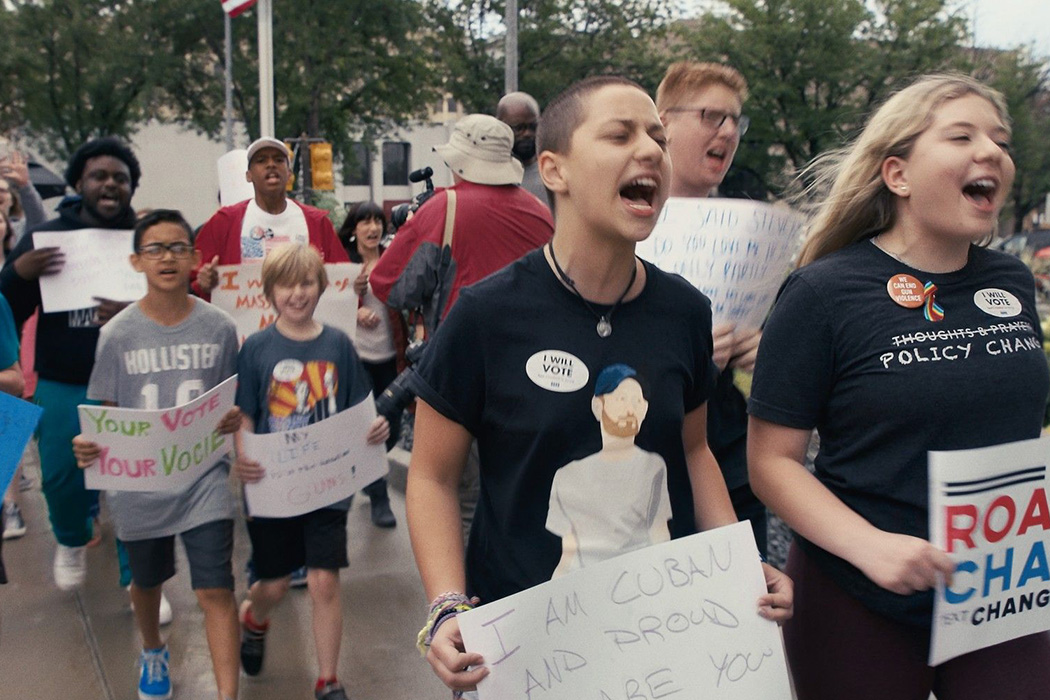 SUNDAY 10/30, 3:30 PM (SESSION 23)
Director: Kim A. Snyder
Producers: Kim A. Snyder, Maria Cuomo Cole, Lori Cheatle
Description:

From director Kim A. Snyder comes an insightful, rousing coming-of-age story of a generation of youth leaders determined to take the reins and fight for justice at a critical time in our nation's history. Sparked by the plague of gun violence ravaging their schools, Us Kids chronicles the March For Our Lives movement over the course of several years. Highlighting X Gonzalez and other young activists as they pull off the largest youth protest in American history, this film follows these changemakers as they set out to build an inclusive and unprecedented movement that addresses racial justice, a growing public health crisis, and a broken political system.
Biographies:

Kim Snyder is a well-known filmmaker who directed the Peabody award-winning documentary Newtown, which screened at premiere festivals worldwide and was theatrically released followed by a national broadcast on PBS's Independent Lens and Netflix. Her most recent short, Lessons from a School Shooting: Notes from Dunblane, premiered at the Tribeca Film Festival, where it won Best Documentary Short. Lessons… is a Netflix Original and is streaming in 196 countries. Snyder's prior works include the feature documentary, Welcome to Shelbyville, which was nationally broadcast on PBS's Independent Lens, as well as over a dozen short documentaries and the feature, I Remember Me. Kim also produced the Academy Award-winning short film Trevor.
Maria Cuomo Cole is the Peabody award-winning producer of Newton and Lessons from a School Shooting: Notes from Dunblane. She executive produced The Hunting Ground, a Emmy and Peabody award-winning film that investigates epidemic of sexual assaults on college campuses. Ms. Cuomo Cole worked with the same film team, executive producing the Oscar-nominated documentary, The Invisible War. This groundbreaking documentary explored the epidemic of rape and sexual violence in the U.S. military.
Lori Cheatle is a producer of over 25 award-winning films and the founder of Hard Working Movies. Titles include Matangi/Maya/M.I.A., about the musician M.I.A.; I Am Another You; Kiki, about the underground Kiki ballroom community in New York City; Captivated: The Trials of Pamela Smart; The Edge Of Dreaming; Seven Songs For A Long Life; This Land Is Your Land; and more. Most recently, she executive produced Hail, Satan?, which was released through Magnolia Pictures. She received the Sundance Institute / AmazonStudios Producers Award in 2019.
Contact Information:

w: https://uskidsfilm.com
e: assistant@kasnyderproductions.com

©2022 United Nations Association Film Festival (UNAFF)