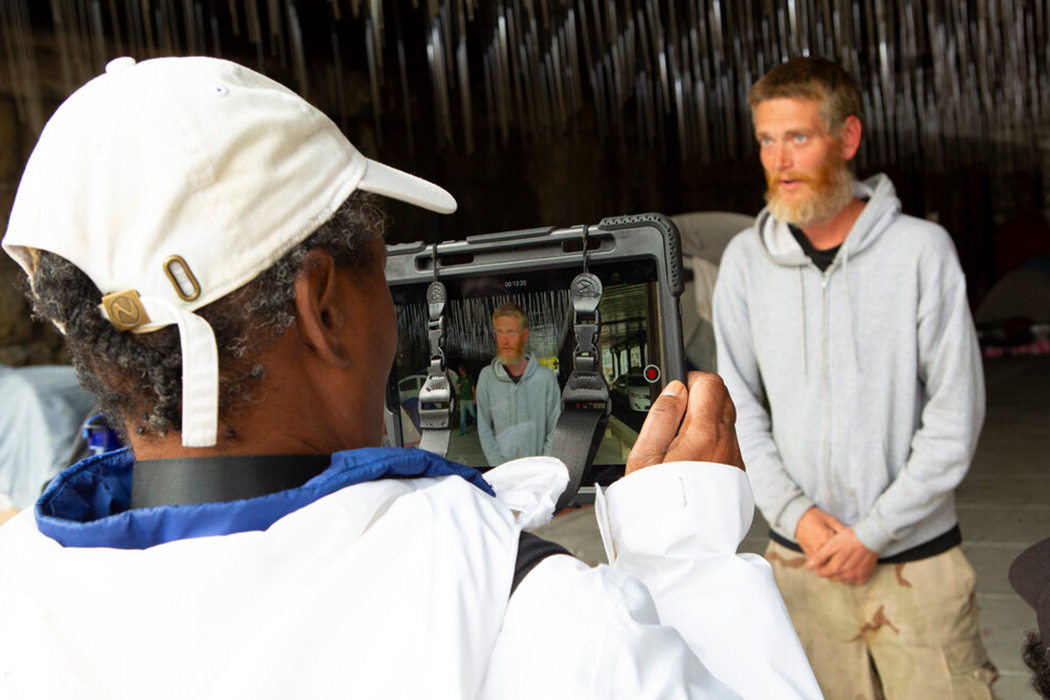 WEDNESDAY 10/26, 6:30 PM (SESSION 14)
Director: Laura Waters Hinson
Producers: Bryan Bello, Hilla Medalia, Nancy Schafer, John Priddy, Ed Priddy
Description:

Sheila White dreams of becoming a photojournalist and escaping her life of homelessness. Yearning to make this change, she studies at a local university while completing homework late into the night at the women's shelter. As a reporter at Street Sense newspaper, Sheila and her reporting partner, Reggie, cover the story of DC's "Tent City." Street Reporter is a deeply intimate, character-based film produced with community collaborators that provides a window into the power of community journalism in one woman's life, casting a vision of the re-humanizing effects of life's most basic need: a place to call home.
Biographies:

Laura Waters Hinson is an award-winning filmmaker and professor whose work elevates the themes of empathy, resilience, and reconciliation. Committed to collaboration and trust-building, she partners with her subjects to tell stories tinged with vulnerability and hope that transcend borders, creeds and stereotypes. Above all, Laura works to produce films that are both entertaining and socially significant, bringing viewers together to find common ground in a diverse world. Her first feature documentary, As We Forgive, about Rwanda's reconciliation movement, won the student Academy Award for best documentary and was broadcast nationally on public television. Laura's films have been screened in the U.S. Congress, the UN, the Smithsonian National Gallery of Art, and at international film festivals.
Bryan Bello a documentary filmmaker specializing in participant-owned and -driven production practices. Bryan's research has been published in New Media & Society, the Journal of Information Technology & Politics, and most recently, Information & Culture. Bryan has produced documentary content for Al Jazeera, Apple, Tribeca, the Solutions Journalism Network, and the International Network of Street Papers. His work has been covered by The Washington Post, PBS NewsHour, and City Lab.

Hilla Medalia, Peabody Award winner, has received four Emmy nominations. Her projects have been screened internationally in theaters and on HBO, MTV, BBC, and ARTE. Among her range of titles are To Die in Jerusalem, After the Storm, Numbered, Dancing in Jaffa, Web Junkie, The Go Go Boys, Censored Voices, Muhi – Generally Temporary, The Oslo Diaries, Transkids, and Leftover Women.

Nancy Schafer is a film producer and consultant. Her recent film, Jockey, premiered at Sundance. She worked at and ran the Tribeca Film Festival from inception to 2012, during which she was executive director of the festival, executive vice president of Tribeca Enterprises, and founder of Tribeca Film, their film distribution company. Prior to Tribeca, she created and ran the SXSW Film Festival for eight years.
John Priddy, CEO & co-founder of the Windrider Institute, is an entrepreneur and Peabody award-winning film producer, who has produced numerous web series and short-form content along with his brother, Ed. Windrider is known for its partnership with the Sundance Film Festival and renowned for its ability to utilize the medium of film to create conversations around the most important topics of our time.
Ed Priddy, chairman & co-founder of the Windrider Institute, is a successful entrepreneur and Peabody award-winning film producer. He is an executive producer of award-winning documentaries, including After The Storm, the Peabody Award-winning To Die in Jerusalem, Family: The First Circle, and many others.
Contact Information:
w: http://streetreporterfilm.com
e:  laurawatershinson@gmail.com

©2022 United Nations Association Film Festival (UNAFF)