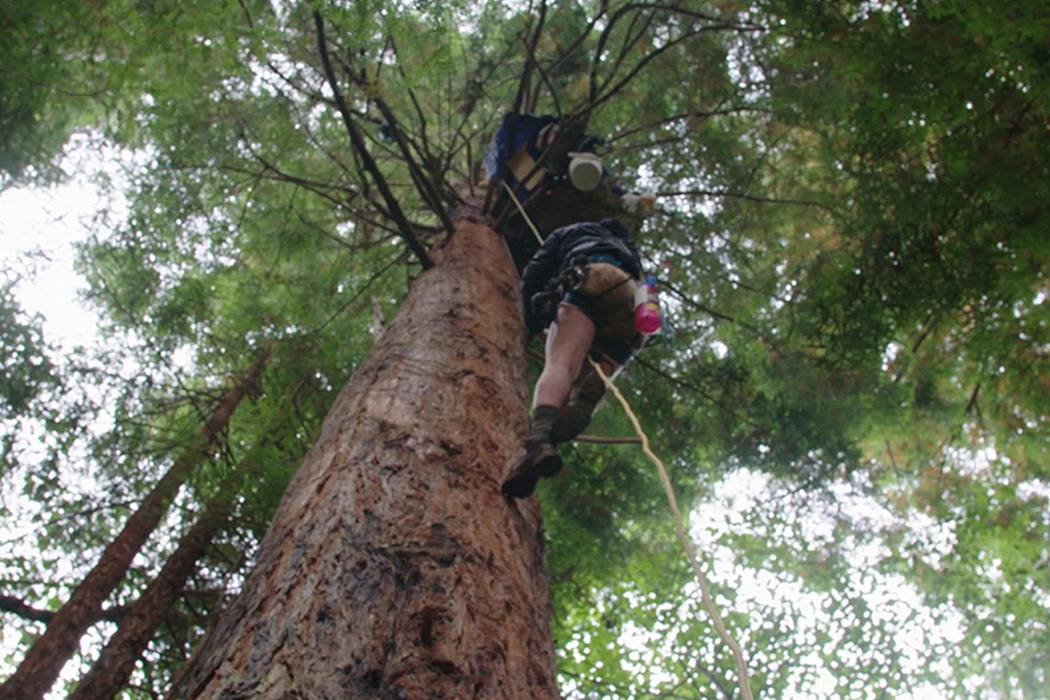 TUESDAY 10/25, 8:00 PM (SESSION 12)
Directors/Producers: Derek Knowles, Lawrence Lerew
Description:

Sentinels is an immersive, observational film that follows a small group of young environmental activists as they undertake a tree-sitting campaign to stop one of the West Coast's largest logging companies from clear-cutting a northern California redwood forest. Unfolding with observational scenes that parallel the rhythms of life in the forest, the film follows Lupine, one of two full-time activists anchoring the campaign, as they tread lightly on a trail, fill water bottles from a creek, and quietly ascend to a tree-top platform – all accompanied by the soft background symphony of birds and wind. This routine is interrupted by the staccato sounds of heavy metal machinery that announces the logging company collecting felled timber.

Biographies:

Derek Knowles is a filmmaker and cinematographer working in creative non-fiction. His films have been supported by the Tribeca Film Institute, Kartemquin Films, the Berkeley Film Foundation, and California Humanities. His works have been Vimeo Staff Picks and have been featured on Short of the Week; they have also appeared on The New York Times, The New Yorker, The Atlantic, PBS, Frontline, and Aeon. His latest films, Last Days at Paradise High and the widely-celebrated After the Fire, explore the human fallout of massive wildfires in intimate, character-driven studies.
Lawrence Lerew is an Emmy-nominated documentary filmmaker best known for the Oscar shortlisted film, The Waiting Room about Oakland's public hospital, as well as his film, The Force, which examined Oakland's police department's efforts to make reforms. Some of his earlier credits include editing Wounded Knee which revisited the American Indian Movement's 1973 take over of sacred land and subsequent armed stand-off with the government, and the Oscar-nominated The Most Dangerous Man in America that retraced the story of Daniel Ellsberg's release of the Pentagon Papers in 1971. He edited The Kill Team, which was awarded Best Documentary Feature at The Tribeca Film Festival and nominated for an Emmy for Outstanding Investigative Journalism. He has been granted a fellowship from The Sundance Institute and serves as a ITVS mentor for young filmmakers.
Contact Information:

w:https://www.latimes.com/about/shortdocs/la-times-short-docs-sentinels-123
e: dereklindenknowles@gmail.com

©2022 United Nations Association Film Festival (UNAFF)