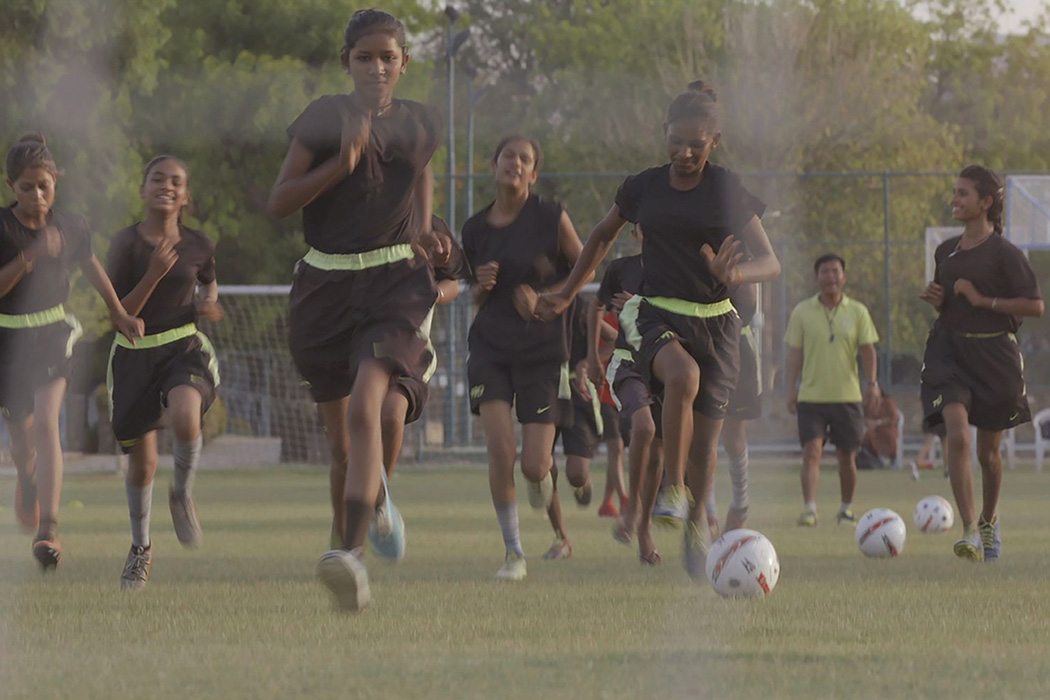 SUNDAY 10/30, 5:30 PM (SESSION 25)
Director: Vijayeta Kumar
Producer: Guneet Monga
Each year, 12 million girls are married before the age of 18. That's 23 girls every minute. In three small villages in Rajasthan, a non-profit organization is trying to change this through football. 200 teenage girls there are playing and training regularly. What sets them apart is that almost all of them are child brides. The film explores their sisterhood and journey as they gain confidence, independence, and agency to stand up to the patriarchy and say no to child marriage. Many have fought to get their marriages annulled. What the future holds for these little girls, nobody knows. But for now, they are in charge, they are confident, and they love kicking balls!
Biographies:

Vijayeta Kumar is a film director and writer living in Mumbai. She discovered feminism in college and chauvinism in the city. Right after graduating, she assisted the award-winning director Pamela Rooks. She also discovered her flair for styling and has styled AR Rahman and Priyanka Chopra for the Oscars, magazine covers, and more. Apart from films and fashion, she has also contributed essays and articles to magazines like Conde Nast Traveler, Marie Claire and Femina. She is an independent director and writer, making short films, branded content, and music videos. Her first short film, Blouse, won the Best Short Film award at the New York Indian Film Festival. Her latest short, Sunny Side Upar, is now available on Netflix. This film is also one of the first films in India that had an all-women crew. She also made a six-part series on women start-up founders called She Builds for National Geographic and Disney Hotstar.
Guneet Monga is an Indian film producer, a BAFTA nominee, and one of the first producers from India to be invited to the Academy of Motion Picture Arts and Sciences. Recent recipient of the second highest civilian honor of France, the Chevalier dans l'Ordre des Arts et des Lettres, or Knight of the Order of Arts and Letters, she is the founder of Sikhya Entertainment, a Mumbai-based production house. She was part of the Global Media Makers fellowship by Film Independent and the US Department of State's Bureau of Education and Cultural Affairs. The Alfred P. Sloan Foundation awarded Guneet the prestigious Sloan Science and Film grant. She recently founded a cinema collective called Indian Women Rising aimed at discovering, amplifying, and distributing the work of Indian women filmmakers across the globe.
Contact Information:

e: vijayetakumar@gmail.com
©2022 United Nations Association Film Festival (UNAFF)