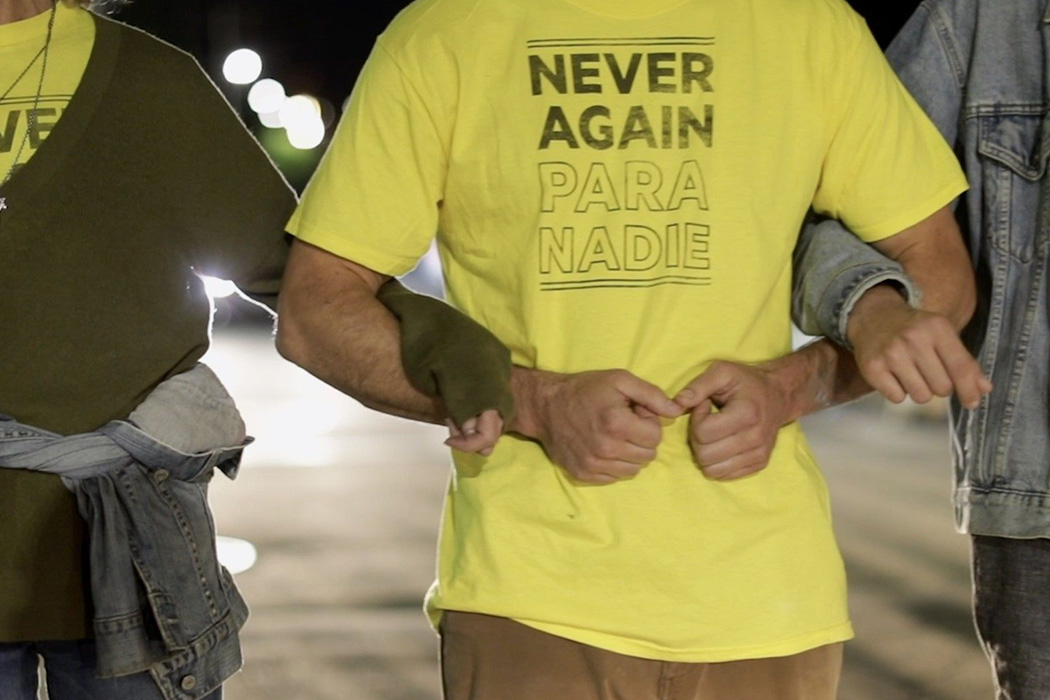 SATURDAY 10/29, 1:15 PM (SESSION 20)
Directors/Producers: Anna Feder, Dan Frank, Justin Reifert, Curtis Matzke, Nate Gilbert, Kevin Bright
Description:

A peaceful demonstration in August, 2019, coordinated by a Jewish-led organization, Never Again Action, attempted to shut down a for-profit prison holding ICE detainees, only to be met with violence by correctional officers. In the smallest and poorest city in Rhode Island, citizens took a stand and learned how difficult it is to challenge the status quo.

Biographies:

Anna Feder has been working in cinema and arts in various capacities for over two decades. She currently serves as the head of Film Exhibition and Festival Programs in the Visual Media Arts department at Emerson College and curates the Bright Lights film series. She served as a programmer for Wicked Queer: the Boston LGBT Film Festival and SFIndie, associate director of the Northampton Independent Film Festival, and director of the Boston Underground Film Festival for seven years.
Dan Frank is an award-winning producer/director of documentaries, television series, commercials, and educational programs. His work has appeared on PBS, Discovery, FOX, HGTV, TLC, DIY, and NBCSN, among others. Programs include a PBS series about modern architecture and a documentary about the Boston Marathon.
Justin Reifert is a filmmaker, producer, and educator. He is a producer on the feature-length documentary, I Can Only Be Mary Lane. The documentary short, Leaving Sharpe, that he co-produced and co-directed won a CINE Golden Eagle Award. He has been an Assistant Professor in Residence at Northwestern University in Qatar and currently serves as Assistant Professor of Cinema Studies at Oakland University in Rochester.
Curtis Matzke is an Emmy-nominated director, screenwriter, and producer. As the founder of Unfurnished Films, Curtis has contributed to numerous short films, documentaries, and micro-budget features. He is the recipient of a professional development grant from the Illinois Arts Council and recently had a film sponsored by Film Independent. In 2019, he founded The Chicago Cinema Collective, a comprehensive compendium of the Chicago film scene.
Nate Gilbert is an independent producer, filmmaker, and project investor. After working in the tech world for five years, Nate entered the independent film space by working on a variety of short films and web series before branching out into feature film projects. His first short, Dear Frankie, premiered at the Straight 8 Competition at Cannes film festival. Nate was an associate producer on the documentary, The Last Blockbuster, which is now available on Netflix.
Kevin Bright began his career producing network variety shows, earning Emmy Awards for his Magic of David Copperfield specials. As executive producers of the decade-long hit NBC series, Friends, Bright and partners Marta Kauffman and David Crane received the Emmy for Outstanding Comedy Series as well as 10 People's Choice Awards for Favorite Comedy Series. Kevin also directed over 60 episodes of Friends, including every season finale. Kevin was Executive Producer of the 2016 documentary, Best and Most Beautiful Things. His recent documentaries are Nureongi and Never Too Late -The Doc Severinsen Story.
Contact Information:
w: https://neveragaindoc.com
e: neveragaindocumentary@gmail.com

©2022 United Nations Association Film Festival (UNAFF)