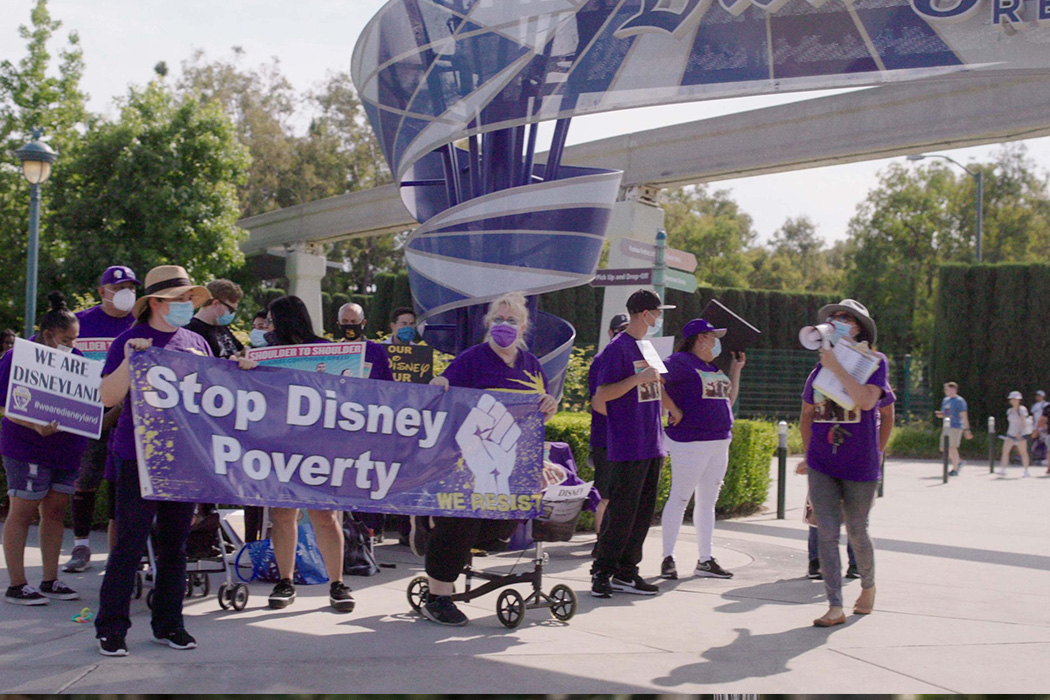 THE AMERICAN DREAM AND OTHER FAIRY TALES




(87 min) US

[watch trailer]

SUNDAY 10/30, 1:20 PM (SESSION 23)
Directors: Abigail E. Disney, Kathleen A. Hughes
Producers: Aideen M. Kane, Lauren E. Wimbush, Kathleen A. Hughes, Abigail E. Disney
Description:

In this personal essay documentary, filmmaker and philanthropist Abigail Disney grapples with America's profound inequality crisis. The story begins in 2018, after Abigail encounters workers at the company that bears her name struggling to put food on the table. Could she, a descendent, with no role in the multinational conglomerate, use her famous last name to help pressure Disney and other American corporations to treat low-wage workers more humanely? Believing her conservative grandfather, Roy Disney, (Walt's brother and company co-founder) would never have tolerated employee hunger at "The Happiest Place On Earth," Abigail reexamines the story of modern American capitalism from the middle of the last century, when wealth was shared more equitably, to today, when CEOs often earn 800 times more than their average employees. What happened? What Abigail learns–about racism, corporate power, and the American Dream–is eye-opening, unexpected, and inspiring in that it illuminates a path to a fairer future for everyone.
Biographies:

Abigail E. Disney is a filmmaker, philanthropist, activist, and the Emmy-winning director of The Armor of Light. As president and CEO of the documentary production company, Fork Films, she produced the groundbreaking Pray the Devil Back to Hell and co-created the subsequent PBS series, Women, War & Peace. She is also the Chair and Co-Founder of Level Forward, a new-breed storytelling company focused on systemic change through creative excellence. She has executive produced and supported over 100 projects through Fork Films' funding program and created the nonprofit, Peace is Loud, which uses storytelling to advance social movements, focusing on women's rights and gender justice.
Kathleen Hughes first teamed up with Abigail Disney as the co-director and producer of the Emmy Award-winning film, The Armor of Light, which premiered at the Tribeca Film Festival and was shortlisted for a Peabody Award. Kathleen was the executive producer of All Ears With Abigail Disney, Fork Films' weekly podcast featuring innovative change-makers. She also directed both Would Jesus Wear A Sidearm?, a New York Times Op-Doc, and On Account of Sex, a New York Times Retro Report about the defeat of the Equal Rights Amendment.
Lauren Wimbush is a producer and archival researcher dedicated to telling compelling and thought- provoking non-fiction stories featuring underrepresented characters, communities, and experiences. Lauren has contributed to a range of feature documentary projects for networks including OWN, PBS, BET, and ABC News. Lauren served as the Associate Producer on the Emmy Award-winning feature, Miles Davis: Birth of The Cool, produced by Firelight Films.
Aideen Kane is the VP of Production at Fork Films and is currently a producer on Women in Blue and Inequality. Previous credits include Emmy-winning and -nominated documentaries, such as The Armor of Light, The Trials of Spring, The Awful Truth, Face to Face: The Schappell Twins, and Voices of the Children. In Ireland, she produced several award-winning documentaries and documentary series for public television and is a producer on the international theatrical hit, Alone it Stands.
Contact Information:
w: https://forkfilms.com
e: sarah@forkfilms.com
©2022 United Nations Association Film Festival (UNAFF)