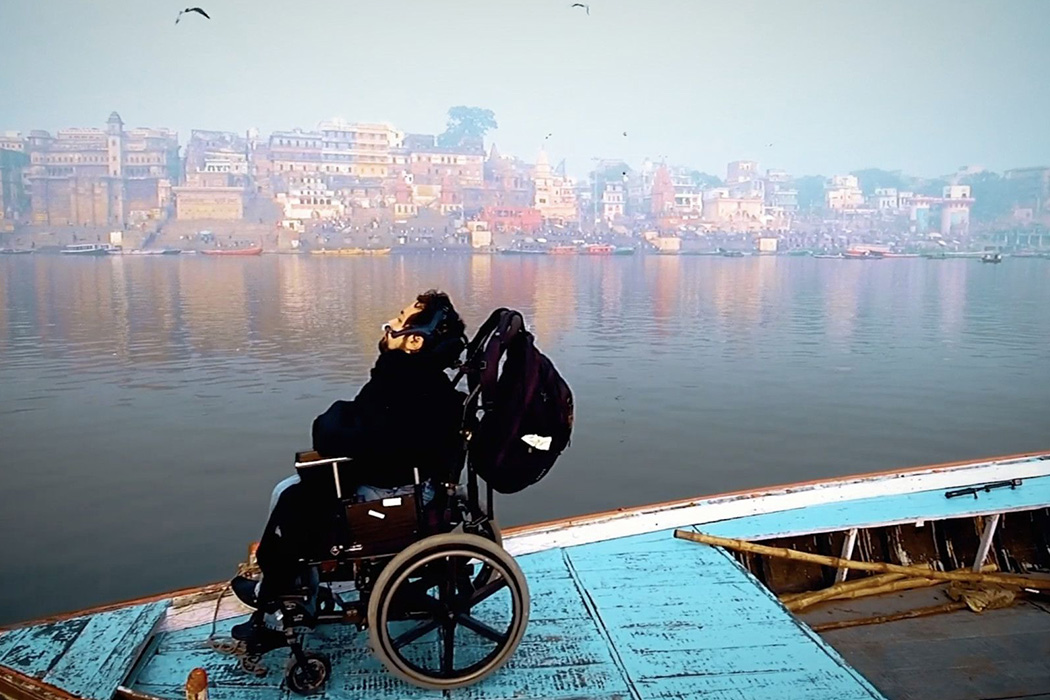 TUESDAY 10/25, 4:00 PM (SESSION 11)
Director: Victor Pineda
Producers: Stephen Nemeth, Maria Florio, Victor Pineda
Description:

Confined to his room during COVID, Victor Pineda, an urban planner, activist, professor, and filmmaker that uses a breathing machine 24/7, continues his search for what makes a life worth living. The documentary contrasts an earlier crisis in Victor's life and the expansive, chaotic trip he took to Varanasi, India with present-day meditative vlogs that shed light on his life search for meaning.
Biographies:

Victor Pineda is a social impact entrepreneur, globally recognized human rights expert, and leading scholar on inclusive and accessible smart cities. He is a two-time presidential appointee and serves as the president and founder of Pineda Foundation / World ENABLED, and the film production company, Windmills & Giants. Dr. Pineda is a highly sought-after speaker and senior advisor to governments and fortune 500 companies on innovation, resilience, and inclusive design. He helped negotiate international agreements, including the UN Sustainable Development Goals, the UN Habitat's New Urban Agenda, and the UN Convention on the Rights of Persons with Disabilities. He is a Senior Fellow at the Mohammed Bin Rashid School of Government in Dubai and holds a residency at San Francisco Film. He directs the Inclusive Cities Lab at UC Berkeley, founded the Global Network for Disability Inclusive and Accessible Urban Development, and co-founded the Smart Cities for All Global Initiative.
Stephen Nemeth is founder and director of Rhino Films, the independent film company that originated as a division of iconoclastic record label Rhino Records. He has produced and executive produced dozens of films, including The Sessions, C.O.G., Fear and Loathing in Las Vegas, Why Do Fools Fall in Love, Radio Free Albemuth, and Spaceman. Nemeth's documentary credits include Dogtown and Z-Boys, Pick Up the Mic, Wardance, Fuel, Flow, Climate Refugees, Under the Boardwalk: The Monopoly Story, Education Inc., Pump, Good Fortune, and Logan's Syndrome. Nemeth is a member of the Academy of Motion Pictures Arts and Sciences and a board member of numerous nonprofit organizations, including Friends of the Earth, Children UN, and the IDA.
Maria Florio produced and wrote the Academy Award-winning Broken Rainbow. She co-produced Truth in the Booth and consulted on Project Return, Naked in Ashes, and Not in God's Name. Maria co-created SOS, a series produced by the UN, and went on to produce the award-winning documentary, Tibet: Cry of the Snow Lion, and Big River Man. She is currently serving as the creative and consulting producer on The Last Days of Extraordinary Lives, a feature about hospice care; Get Up and Go, on the crisis of fatherlessness; Dreadlock Rock: The History of Reggae; What's Up With Down, about the history of Down syndrome, and a film on the life of Laura Nero.
Contact Information:

w: www.windmillsandgiants.com
e: characterz@gmail.com

©2022 United Nations Association Film Festival (UNAFF)