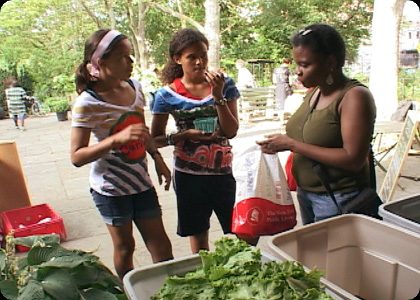 What's On Your Plate?
75' (USA)
Director: Catherine Gund
Producers: Catherine Gund, Tanya Selvaratnam


Description:
What's On Your Plate? is a witty, provocative documentary about kids and food politics. Over the course of one year, the film follows two 11-year-old African-American city kids as they explore their place in the food chain. Sadie and Safiyah talk to food activists, farmers and storekeepers, as they address questions regarding the origin of the food they eat, how it's cultivated, and how many miles it travels from farm to fork. Sadie and Safiyah visit supermarkets, fast food chains, and school lunchrooms. But they also check out innovative sustainable food system practices by going to farms, greenmarkets, and community supported agriculture (CSA) programs. The film culminates with a delicious local meal cooked by the girls and friends they have made along the way. Sadie and Safiyah formulate sophisticated and compassionate opinions about urban sustainability, and by doing so inspire hope and active engagement in others.


Biography:
Catherine Gund, the founder of Aubin Pictures, is an Emmy Award-nominated producer, director, writer and organizer. Her media work—which focuses on arts and culture, HIV/AIDS and reproductive health, and other social justice issues—has screened around the world in festivals and theaters, on PBS and the Sundance Channel, as well as community-based organizations, universities and museums. Gund's productions include Motherland Afghanistan; A Touch of Greatness; Making Grace; On Hostile Ground; Hallelujah! Ron Athey: A Story of Deliverance; When Democracy Works; Positive: Life with HIV and Keep Your Laws Off My Body. She co-founded the Third Wave Foundation and was on the founding board of Working Films and Reality Dance Company. She has served on the advisory council for MediaRights.org and the NewFest, and as a consultant for the Robeson Fund.
Tanya Selvaratnam was born in Sri Lanka and raised in Long Beach, CA. She is a producer, writer, actor and activist based in New York and Cambridge, MA. Most recently, Tanya produced Chiara Clemente's Our City Dreams and was the Artist Liaison for the "30 Americans" exhibition at the Rubell Family Collection. Other film productions include Jed Weintrob's On_Line and The F Word and Gabri Christa's Domino. As an activist, she has worked with the Ms. Foundation, UN, World Health Organization, Third Wave Foundation, Groundswell Community Mural Project, and Artists for Tsunami Relief.


Contact Information:
Catherine Gund
Aubin Pictures
PO Box 214,
New York, NY 10012
E-mail:info@aubinpictures.com
Web site: www.whatsonyourplateproject.org