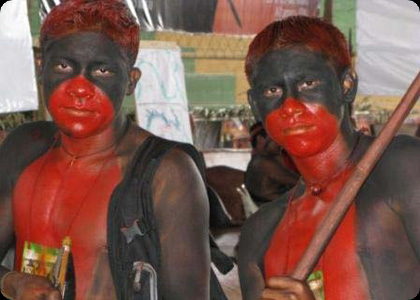 Battle for the Xingu
11' (Brazil, USA)
Director: Iara Lee
Producer: George Gund III


Description:
The Xingu, a tributary of the Amazon, is home to over 10,000 indigenous people who rely on the river for survival. The Brazilian government, however, keen to develop the region, is proposing what would be the world's third largest hydroelectric dam, threatening to destroy the biodiversity of the Xingu River Basin and deprive these people of their rights to a sustainable future. Cultures of Resistance was in Altamira in 2008 for the Xingu Alive Encounter—one of the largest-ever gatherings of indigenous Brazilians—to witness the spectacular determination of the Amazon people to protect their way of life. Today, plans to build the dam continue. Thankfully, so do the protests. In January 2009, over 100,000 Brazilians gathered in Belem for the World Social Forum, where once again the people of the Xingu made their voices heard, and made clear that they will not stand by to watch the death of the river and the extinction of their culture.


Biography:
Iara Lee was born and raised in Brazil by Korean parents. Her career in film began as producer and programmer of the Sao Paulo International Film Festival, a tenure that lasted from 1984 to 1989. From there, Iara relocated to New York city to launch a film production company, Caipirinha Productions.
George Gund IIIis a trustee of the George Gund Foundation, a Cleveland-based organization created by his father in 1952 known for its support of innovative community and national programs and organizations. He is active in several international film festivals—as long-time chair of the San Francisco Film Society, a founder of the Cleveland Cinematique, and a long-time board member of the Cleveland Film Festival. He is a trustee of the University of California Art Museum at Berkeley and its Pacific Film Archive, a director of the Sundance Institute, and a former member of the Ohio Film Bureau. He is a member of the Film Committee of the Museum of Modern Art in New York and past director of the Museum's Anthology Film Archive. He has served as a juror at the Moscow and Istanbul International Film Festivals.


Contact Information:
Iara Lee
Caipirinha Productions
39 Mesa Street, Suite 300
The Presidio
San Francisco, CA 94129
E-mail: wildgoose@gg3.com
Web-site: http://www.culturesofresistance.org