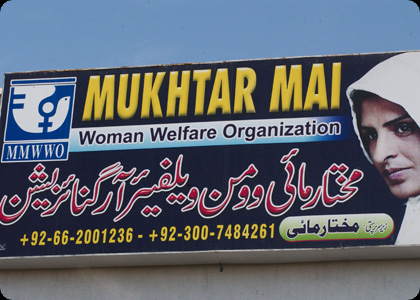 Dishonored
52' (Pakistan)
Directors/Producers: Sigrun Norderval, Gard A. Andreassen


Description:
In June 2002, a dispute involving a question of honor between the Mai and Mastois clans in rural Pakistan was judged by a local tribal council. When Mukhtar Mai pleaded on her family's behalf, the local imam consented to her punishment as honor-revenge, and she was brutally gang-raped by four men from the Mastois clan. Although local tradition presumed that Mukhtar would commit suicide because she had been dishonored, this strong-willed peasant woman reported the rape to the local police, and when they refused to do anything, a local journalist published her story, which soon erupted in a national controversy over the oppression of women under Islamic law. Dishonored documents the remarkable story of Mukhtar Mai, whose demand for justice received media coverage worldwide. Over the next few years her case led to a dramatic series of legal proceedings through Pakistan's lower court system, with successive controversial decisions being appealed and a final ruling by the nation's Supreme Court that resulted in changes to the legal system. Over a period of four years, despite death threats, Mukhtar Mai persisted in her search for justice. During this time she was instrumental in establishing a Crisis Relief Centre for abused women, helped found a new school where girls as well as boys could be educated, had her autobiography published in twenty-one languages in forty-five countries, and traveled on behalf of women's rights throughout Europe and at the UN in New York.


Biography:
Gard A. Andreassen has worked as a line producer on drama, documentary and entertainment productions in Norway and internationally. Gard has also produced a large number of short films, music videos and commercials. In 2003 he produced the feature film Play (co–production with Dinamo Story) and the documentary Home of the Brave – Land of the Free. His current function in Basic TV is that of producer/director, and amongst his most recent projects is the documentary Dishonored featuring the Pakistani multiple-rape victim Mukhtar Mai, the deep–sea diving documentary series Collateral Damage, and the Iranian documentary⁄exposé Forbidden Future, as well as being responsible for developing new projects.


Contact Information:
Icarus Films
32 Court Street
Brooklyn, NY 1120
E-mail: mail@icarusfilms.com
Web site: http://icarusfilms.com/new2008/dis.html