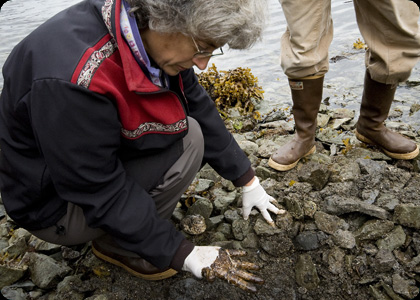 Black Wave: The Legacy Of The Exxon Valdez
99' (Canada, USA)
Director: Robert Cornellier
Producers: Robert Cornellier, Paul Carvalho


Description:
On March 24th, 1989, when a drunken captain allows the Exxon Valdez supertanker to run aground on a reef, millions of gallons of crude oil are spilled in the pristine waters of Alaska. It is the biggest environmental disaster in North American history. But Exxon reacts quickly. "You're lucky it happened with Exxon, because we do business straight," a company spokesman tells hundreds of despairing fishermen. "It won't take twenty years to solve all this." Fast forward twenty years. In Alaska's little fishing town of Cordova, a native sculptor carves a 'shame Exxon' totem pole, featuring the spokesman's famous promise, "We will make you whole." That has not happened. Cordova's families face poverty as a result of the herring fishery's collapse. A fishers' lawsuit obtains the biggest jury award in American judicial history—5.5 billion dollars—yet Exxon stalls the case for more than a decade while fishers go broke.


Biography:
Robert Cornellier made his first documentary in 1978 Une autre histoire des pays d'en haut. In 1986, Robert teamed up with Patricio Henriquez and Raymonde Provencher at the helm of the Nord-Sud TV program. In 1994, he co-produced and directed J'ai encore une vie à vivre, a collection of testimonials by teens fighting cancer. A year later, he teamed up with his former Nord-Sud colleagues to form Macumba International. In addition to his role as producer at Macumba International, Robert directed a film on Judy Bassingwaithe, a community worker from Johannesburg and co-produced The Last Stand of Salvador Allende and Images of a Dictatorship.

Prior to his documentary experience, Paul Carvalho spent more than twenty years working as a radio and TV reporter. As a documentary filmmaker he profiled Margaret Trudeau; Canada's most collected painter, Norval Morrisseau; and the fastest sprinters in the world, America's Maurice Greene and Canada's Donovan Bailey. He produced The Americas in the 21st Century, which won the Aurora Gold Award and he produced the UN's official film on the rebirth of East Timor, Patria.

Contact Information:

Macumba Doc
3862, Parc-LaFontaine Avenue
Montreal, Quebec
Canada H2L 3M6
E-mail: melaniel@macumbainternational.com
Film website: blackwavethefilm.com