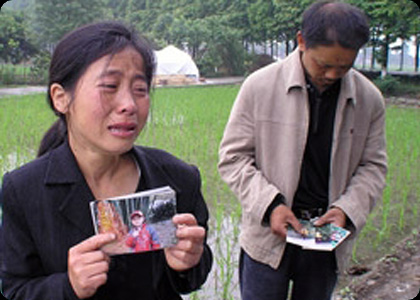 China's Unnatural Disaster: The Tears of Sichuan Province
38' (China, USA)
Directors: Jon Alpert, Matthew O'Neill,
Producers: John Alpert, Matthew O'Neill, Peter Kwong, Michelle Mi, Ming Xia


Description:
On May 12, 2008, a catastrophic earthquake hit Sichuan Province in rural China, killing nearly 70,000 people, including 10,000 children. In town after town, poorly constructed school buildings crumbled, wiping out classrooms filled with students, most of them their parents' only child. But when grieving mothers and fathers sought explanations and justice, they found their path blocked by incompetence, corruption and empty promises. China's Unnatural Disaster examines the reality of modern China for its people, presenting a rare glimpse at how the government reacts to civil unrest. The film visits parents of deceased children from several schools a few days after the disaster, sharing in their unimaginable grief at the loss of what was for most their only child.


Biography:
Jon Alpert has won eleven National Emmy Awards for news and documentary programs. Most recently, he directed HBO's acclaimed Baghdad ER. More than a hundred of his reports from Vietnam, Cuba, the former Soviet Union, China, Nicaragua, Korea, Afghanistan, Iraq and all parts of the United States have been widely broadcast on HBO, NBC, ABC, CBS, PBS, ESPN, and Canadian and Japanese major networks. Alpert is the co-founder and co-director of the Downtown Community Television Center, America's largest and most honored nonprofit community media center, located in a landmark Tribeca firehouse.
Matthew O'Neill is a documentary filmmaker best known for his work on the HBO film Baghdad ER, for which he and co-creator Jon Alpert won three Emmy Awards. He has been involved with Downtown Community Television Center since 1997. He primarily produces films about subjects outside the United States including Turkey's Tigers about the rise of religious Islamic businessmen in Turkey for PBS's Wide Angle and Venezuela: Revolution in Progress, which aired on Discovery Times. O'Neill is a graduate of Yale University.


Contact Information:
Dorothy Krajewski
Downtown Community Television Center (DCTV)
87 Lafayette Street
New York, NY 10013
Web site: www.hbo.com/docs/programs/chinasdisaster/index.html