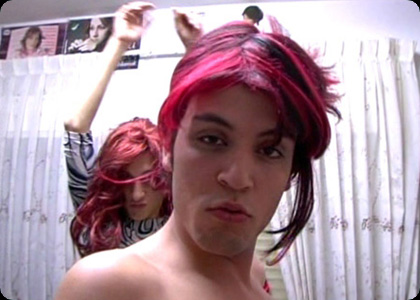 City of Borders
66' (Israel, Palestine, USA)
Director/Producer: Yun Suh


Description:
In observing the lives and struggles of the regulars at the gay bar Shushan, City of Borders highlights the bond forged when people from warring worlds embrace what everyone shares in common—the right to be accepted and belong—rather than be defined by the differences that tear them apart. City of Borders follows the intersecting lives of five bar regulars as they face extraordinary risks and intolerance. Each participant's storyline chronicles a bittersweet balance between survival and the need to honor his or her true self as well as his or her limitations in transcending barriers between people. On the dance floor, a 33-year-old Palestinian Israeli, Samira Saraya, kisses her 35-year-old Jewish Israeli lesbian lover, Ravit Geva. Their union breaks two of Middle Eastern society's biggest taboos: same-sex relations and intimacy between Jews and Arabs. Ironically, these barriers have drawn them closer together, but isolated them from their families. Their relationship complicates over the issue of starting a family of their own. Outside of the bar, Jewish, Muslim and Christian fundamentalists, in a rare show of solidarity, strive to eliminate all demonstrations of gay identity through the reversal of anti-discrimination laws, riots and death threats.


Biography:
After earning a biology degree from UC Berkeley, Suh landed jobs in radio and broadcast television news, where she has worked for the past eight years. She has extensively covered news on the Middle East and has reported from Israel, the West Bank and the Gaza Strip. Her nominations include Best Radio Documentary from the National Federation of Community Broadcasters for Sabra & Shatilla, about the survivors of the 1982 massacre of Palestinians in Lebanese refugee camps. She has also received a local Emmy nomination for producing a news feature, Comfort Women, the story of an illiterate Korean woman who uses her paintings to break her fifty year silence about being forced into sexual slavery by the Japanese Imperial Army during World War II. In 2002, she earned the Support, Training and Access for New Directors (STAND) grant from the Film Arts Foundation to pursue her lifelong dream of being a filmmaker.


Contact Information:
Yun Suh
2319 Howe Street
Berkeley, CA 94705
E-mail: playbigger@gmail.com
Web site: www.cityofborders.com