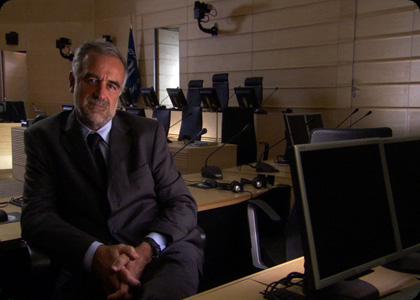 The Reckoning: The Battle for the International Criminal Court
93' (Congo, Colombia, Sudan, Uganda)
Director: Pamela Yates
Producer: Paco de Onis


Description:
Launched in 2002, the International Criminal Court (ICC) is the first international tribunal of its kind, a permanent criminal court created to prosecute individuals, no matter how powerful, for crimes against humanity, war crimes and genocide. The Reckoning follows the dynamic and charismatic Prosecutor Luis Moreno Ocampo, Deputy Prosecutor Fatou Bensouda and Senior Trial Attorney Christine Chung as they issue arrest warrants for the Lord's Resistance Army leaders in Uganda, put four Congolese warlords on trial at The Hague, challenge the UN Security Council to support the Court's call for an arrest warrant for the President of Sudan on charges of genocide, and shake up the Colombian justice system. As the Prosecutor tells us, he has to take this tiny court, created by dreamers, and turn it into reality. He has a mandate to prosecute perpetrators around the world for the worst crimes imaginable, whether they are warlords or military brass or heads of state, even as they continue to wreak havoc. But he has no police force—he needs to pressure the international community to follow through, to muster political will. Will it succeed? How will the world make sure that the Prosecutor can fulfill his mandate?


Biography:
Pamela Yates is the recipient of a 2008 Guggenheim Fellowship. She is the director of the Sundance Award-winning When the Mountains Tremble, the producer of the Emmy Award-winning Loss of Innocence, and the executive producer of the Academy Award-winning Witness to War. Previously Yates directed State of Fear, based on the findings of the Peruvian Truth and Reconciliation Commission. Before that she directed Presumed Guilty, a two hour primetime PBS special about the ethical and moral dilemmas faced by the San Francisco public defenders. She produced, directed and co-wrote Cause for Murder, which was commissioned by the PBS international series Wide Angle. Pamela is a co-founder of Skylight Pictures, Inc. a New York City multi-media company committed to producing artistic, challenging and socially relevant independent documentary films on issues of human rights and the quest for justice.
Prior to the ICC project, Paco de Onis produced State of Fear, a Skylight Pictures film about Peru's twenty year "war on terror" based on the findings of the Peruvian Truth and Reconciliation Commission. Paco has produced documentaries for PBS (On Our Own Terms with Bill Moyers), National Geographic (Secrets from the Grave), New York Times Television (Police Force and Paramedics) and MSNBC (Edgewise with John Hockenberry).


Contact Information:
Skylight Pictures
330 West 42nd Street
24th Floor
New York, NY 10036
E-mail: info@skylightpictures.com
Web site: www.skylightpictures.com