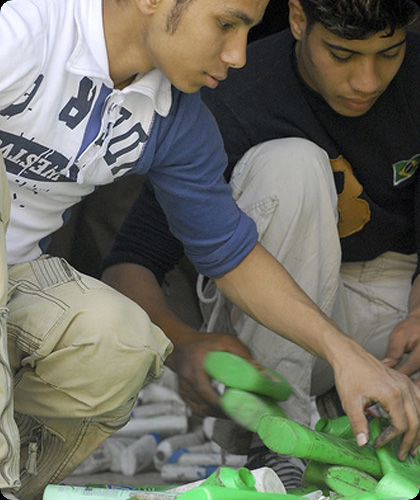 Garbage Dreams
83' (Egypt, United Kingdom)
Director/Producer: Mai Iskander


Description:
Filmed over four years, Garbage Dreams follows three teenage boys—Adham, a bright precocious seventeen year old; Osama, a charming impish sixteen year old; and Nabil, a shy artistic eighteen year old—born into the trash trade and growing up in the world's largest garbage village, a ghetto located on the outskirts of Cairo. It is a world folded onto itself, an impenetrable labyrinth of narrow roadways camouflaged by trash. It is also home to 60,000 Zaballeen, Arabic for 'garbage people.' For generations, the residents of Cairo have depended on the Zaballeen to collect their trash, paying them only a minimal amount for their garbage collection services. The Zaballeen survive by recycling the city's waste. These entrepreneurial garbage workers recycle 80% of all the garbage they collect, creating what is arguably the world's most efficient waste disposal system. When the city they keep clean suddenly decides to replace the Zaballeen with multinational garbage disposal companies, the Zaballeen community finds itself at a crossroads. Face to face with the globalization of their trade, each of the teenage boys is forced to make choices that will impact his future and the survival of his community.


Biography:
Mai Iskander is a producer, director and cinematographer based in New York. Garbage Dreams is Mai's directorial debut. As a cinematographer, Mai has worked on TV shows for A&E, PBS, LOGO and has filmed numerous dramatics (Roof Sex) and commercials. She has had the privilege of working with the legendary Albert Maysles on the documentary Profiles of a Peacemaker. Mai recently returned from Tchad, where she worked with Academy Award Nominee Edet Belzberg on her documentary Watchers of the Sky. Mai started her career working as a camera assistant for the Academy Award-nominated cinematographer Miroslav Ondricek (Amadeus, Ragtime). As a camera assistant, Mai worked on over a dozen features, such as Preacher's Wife, Men In Black and As Good As It Gets, and over a hundred commercials. She graduated from New York University, Tisch School of the Arts with a BFA in film production and a BA in economics.


Contact Information:
Mai Iskander
338 Prospect Place #4G
Brooklyn, NY 11238
E-mail: info@garbagedreams.com
Web site: www.garbagedreams.com