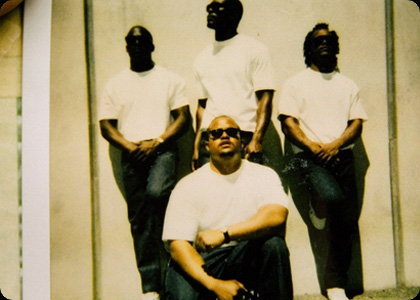 Crips and Bloods: Made in America
83' (USA)
Director: Stacey Peralta
Producers: Stacey Peralta, Baron Davis, Dan Halsted, Shaun Murphy, Gus Roxburgh


Description:
South Los Angeles is home to two of America's most infamous African-American gangs, the Crips and the Bloods. On these streets over the past thirty years, more than 15,000 people have been murdered in an ongoing cycle of gang violence that continues unabated. It was here, just a few miles from the gated communities and sprawling mansions of Beverly Hills and Bel Air, where this nation's most bloody and costly outbreaks of civil unrest erupted—not once, but twice. Hard-hitting, yet ultimately hopeful, this film not only documents the emergence of the Bloods and the Crips and their growth beyond the borders of South Central, but also offers insight as to how this ongoing tragedy might be resolved.


Biography:
Stacy Peralta wrote and directed the critically acclaimed Dogtown and Z-Boys, an unflinching chronicle of the birth of modern skateboard culture, which won Directors Award and the Audience Award at the Sundance Film Festival and Best Documentary at the Independent Spirit Award. Crips and Bloods: Made in America is not only Peralta's most personal project, it has also been his most difficult. After watching Los Angeles burn in 1992 and with a young son by his side, Peralta found himself questioning why this was happening for a second time in the same city and why were the two most infamous African-American gangs created in LA.
Dan Halsted, as vice president of Hollywood Pictures, has stewarded a broad variety of successful features including Encino Man, Tombstone, Evita and The Hand That Rocks the Cradle. Halsted's producing career has been equally accomplished, including Oliver Stone's Nixon and Any Given Sunday, The Virgin Suicides and Garden State. He has also produced for TV, including a duo of provocative politically-charged documentaries, The Day Reagan Was Shot and Assassinated: The Last Days of Kennedy and King.
Baron Davis has made two All-Star appearances as point guard for the Golden State Warriors and is only the eighth player in league history to win Player of the Week twice consecutively. Off the court, Davis created Team Play, a nonprofit foundation for underprivileged kids; served as a spokesman for LA's Best, an after-school mentoring program; addressed the Congressional Black Caucus in Washington DC; and set up a program where $2 from every point scored during the 2006-07 season went to victims of Hurricane Katrina in New Orleans.


Contact Information:
John Hoskyns-Abrahall
Bullfrog Films
372 Dautrich Road
Reading, PA 19606
E-mail: john@bullfrogfilms.com
Web site: www.bullfrogfilms.com