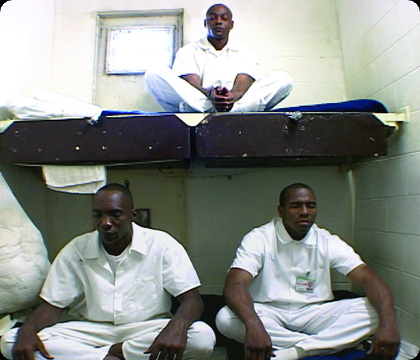 The Dhamma Brothers
76' (USA)
Directors: Jenny Phillips, Anne Marie Stein, Andrew Kukura
Producers: Jenny Phillips, Anne Marie Stein


Description:
Donaldson Correctional Facility is situated in the Alabama countryside southwest of Birmingham. Around 1,500 men, considered the state's most dangerous criminals, live behind high security towers and a double row of barbed and electrical wire fences. Yet within this dark environment, a spark was ignited. A growing network of men was gathering to meditate on a regular basis. Were these prisoners, many of them survivors of personal trauma, even capable of withstanding the emotionally and physically demanding experience of a ten day meditation retreat? Despite the extreme difficulty in obtaining permission to film inside a prison, the Alabama Department of Corrections allowed a film crew to document, not only the Vipassana retreat, but many other scenes revealing the daily lives of prisoners and staff. This is, most likely, the first time non-inmates have ever lived among inmates inside a prison. But, has the retreat been genuinely transformative for the men? Or, as the Warden suggests, could they just be faking these changes to look good to the parole board? Is the transformation sustaining?


Biography:
Jenny Phillips has a doctorate in cultural anthropology and is a practicing psychotherapist in her hometown of Concord, Massachusetts. She also works in state and county prisons, teaching courses on emotional literacy skills. In 2002, Jenny founded The Hemingway Preservation Foundation to support the work of the Cuban government in preserving the Cuban home, library, and papers of Ernest Hemingway. Jenny's grandfather, Maxwell Perkins, was Hemingway's editor and close friend.
Anne Marie Stein is currently dean of professional and continuing education at The Massachusetts College of Art and Design. She was director of development for Northern Light Productions and executive director of the Boston Film/Video Foundation. Before that, she lived and worked for seven years in Paris, where she was director of the Center for Media Art at the American Center for Students and Artists.
Andrew Kukura has worked as a director, producer, writer and editor at Northern Light Productions in Boston from 1998 to the present. In early 2006, Andrew finished editing The Spear of Christ for the History Channel series "Decoding the Past." His production credits include two programs for the Missouri Historical Society's Lewis and Clark National Bicentennial Exhibit.


Contacts:
Anabel Graetz
SemiQuaver Services
PO Box 400027
Cambridge, MA 02140
E-mail: anabel@dhammabrothers.com
Web site: www.dhammabrothers.com