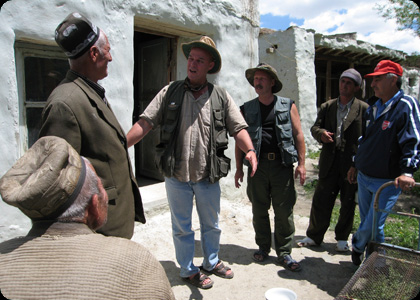 Seed Hunter
52' (Australia, Russia, Tajikistan)
Director/Producer: Sally Ingleton


Description:
Scientists are exploring many solutions to adapt our food supply, including going back to mother nature herself to locate the genes that can withstand our changing climate; genes that, thanks to a high yielding monoculture, have almost disappeared. Australian scientist, Dr. Ken Street, aka the 'Seed Hunter,' spends his life searching for the tiny seeds that could play a role in helping food producers around the world. This film follows Dr. Ken, the Indiana Jones of agriculture, on a journey from the drought-ravaged farms of Australia, to the heart of the Middle East, to the mountains of Tajikistan. It is in the former Soviet republic of Tajikistan that he and his team of 'gene detectives' are most likely to find seeds like the elusive wild chickpea that can survive in temperatures of 40 degrees above and below zero. Sounds simple enough until you realize that land clearing, urbanization and modern farming systems have all but wiped out these ancient food sources. But the prize for 'Seed Hunter' Ken Street is the rare wild chickpea, whose tough resilient genes could help transform the modern chickpea, enabling it to be grown by more people. At journey's end, Ken travels deep into the Arctic to deliver his precious bounty of seed to the impenetrable 'doomsday vault,' built as a back up for the world's seed supply of every food type known to human kind.


Biography:
Sally Ingleton is a partner in the Australian company 360 Degree Films. Specializing in science, arts, history and social issues Sally has made programs for the BBC, Channel 4, the Discovery Channel, National Geographic, ABCTV, SBSTV and NHK. Sally produced 2 Mums and a Dad; Welcome 2 My Deaf World; and Waters: Life and Death on the Great Barrier Reef. Her other films include Painting Country, which followed a group of Aboriginal artists on a journey back to their traditional country in Australia's Great Sandy Desert; Mao's New Suit, which charted the course of two Beijing fashion designers as they launch themselves on the Shanghai market; and The Tenth Dancer, which was about the rebuilding of the Cambodian ballet after Pol Pot. The latter was invited to over 20 international film festivals, and won several awards.


Contact Information:
Sally Ingleton
360 Degree Films Pty Ltd
PO Box 418
Brunswick VIC 3056
Australia
E-mail: sally@360degreefilms.com.au
Web site: www.seedhunter.com / www.360degreefilms.com.au