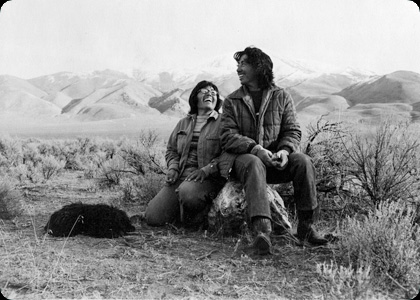 American Outrage
56' (USA)
Directors/Producers: Beth Gage, George Gage


Description:
Carrie and Mary Dann are feisty Western Shoshone sisters who have endured five terrifying livestock roundups by armed federal marshals in which more than a thousand of their horses and cattle were confiscated—for grazing their livestock on the open range outside their private ranch. That range is part of 60 million acres recognized as Western Shoshone land by the U.S. in the 1863 Treaty of Ruby Valley, but in 1974 the U.S. sued the Dann sisters for trespassing on that land, without a permit. That set off a dispute between the Dann sisters and the U.S. government that swept to the U.S. Supreme Court and eventually to the Organization of American States and the UN. The U.S. Bureau of Land Management insists the sisters are degrading the land. The Dann sisters say the real reason is the resources hidden below this seemingly barren land, their Mother Earth. It so happens that Western Shoshone land is the second largest gold producing area in the world.


Biography:
From the 1970s to the 1990s, George Gage directed and Beth Gage produced thousands of television commercials. Over 200 have won major advertising awards including the U.S. CLIO Hall of Fame. They produced and directed two theatrical feature films, Skateboard and Fear in a Handful of Dust. Their first effort, the award-winning documentary Fire on the Mountain, was described by The N.Y. Times as "bracing exploits, hearty outdoorsmen powerfully captured on film." Former U.S. Secretary of the Interior, Bruce Babbitt, said that Troubled Waters "opens up a brand new chapter on conservation history." Together We Can highlights people making a positive difference in the lives of young people overcoming physical, mental or emotional disabilities. Shot in China, Japan, Africa, India, Nicaragua and the U.S., Water: A Clear Solution presents the story of a man who dreams of bringing safe drinking water to the 1.2 billion people in the world without it by staging the first ever around-the-world foot race. Our Land, Our Life, won the Peoples Choice Award and the Spirit Award. George and Beth are currently working on a film concerning the indigenous Mayan of Belize and their struggle for their land rights.


Contact Information:
John Hoskyns-Abrahall
Bullfrog Films
372 Dautrich Road
Reading, PA 19606
E-mail: john@bullfrogfilms.com
Web site: www.bullfrogfilms.com