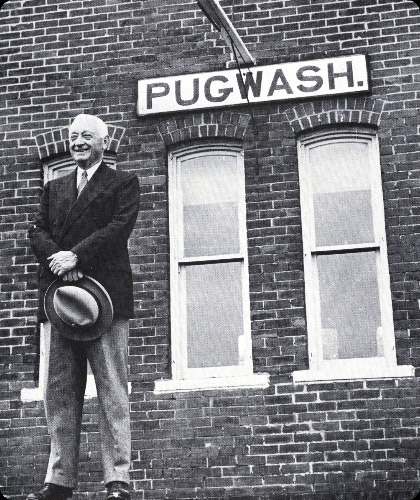 The Strangest Dream
89' (Canada)
Director: Eric Bednarski
Producer: Kent Martin


Description:
When the U.S. government brought the world's greatest scientists together to build the first atomic bomb, nuclear physicist Joseph Rotblat was among them. But his conscience would not allow him to continue, and he became the only member of the Manhattan Project to leave on moral grounds. Branded a traitor and spy, Rotblat went from designing atomic bombs to researching the medical uses of radiation. Together with Bertrand Russell he helped create the modern peace movement, and eventually won the Nobel Peace Prize. The Strangest Dream tells the story of Joseph Rotblat, the history of nuclear weapons, and the efforts of the Pugwash Conferences on Science and World Affairs—an international movement Rotblat co-founded—to halt nuclear proliferation. The first Pugwash conference took place in the small Nova Scotia fishing village from which it draws its name. This film brings to light the group's behind-the-scenes role in defusing some of the tensest moments of the Cold War. The story takes us from the site of the first nuclear test, in New Mexico, to Cairo, where contemporary Pugwash scientists meet under the cloud of nuclear proliferation, and to Hiroshima, where we see survivors of the first atomic attack. The Strangest Dream demonstrates the renewed threat represented by nuclear weapons, while encouraging hope through the example of morally engaged scientists and citizens.


Biography:
Eric Bednarski's films have screened on Danish and Polish television, internationally at festivals, and at the State Museum of Auschwitz-Birkenau and the Museum of Polish Jewish History in Warsaw. Like The Strangest Dream, his earlier films display a passion for history. Postcard from Auschwitz tells the wartime story of a relative sent to the notorious concentration camp, while MDM explores how ideology and architecture came together to create a controversial Warsaw neighborhood in post-war Communist Poland. Bednarski's work has screened at the International Festival of Films on Art, the Canadian Film Centre's Worldwide Short Film Festival, the Atlantic Film Festival and Detroit Docs.
Kent Martin has been involved in the production of over eighty films and has won national and international accolades. Among these films are A Song for Tibet, Donald Brittain: Filmmaker, Who's Counting?, Distress Signals, Westray, Pelts, In Bed with an Elephant and Miller Brittain. His most recent projects include Forgiveness, Buried at Sea, Cottonland, Blood and Water, Damage Done, Flipping Out and Uncle Bob's Hospital Visit.


Contact Information:
John Hoskyns-Abrahall
Bullfrog Films
372 Dautrich Road
Reading, PA 19606
E-mail: john@bullfrogfilms.com
Web site: www.bullfrogfilms.com