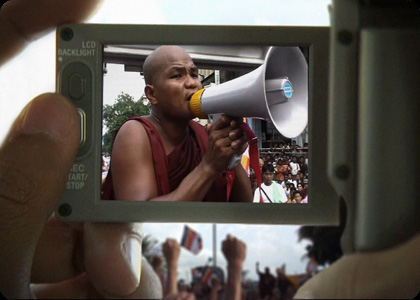 Burma VJ
84' (Burma, Norway)
Director: Anders Ostergaard
Producer: Lise Lense-Moller


Description:
Though risking torture and life in jail, courageous young citizens of Burma live the essence of journalism as they insist on keeping up the flow of news from their closed country. Armed with small handycams, the Burma VJs (video journalists) stop at nothing to make their reportages from the streets of Rangoon. Their material is smuggled out of the country and broadcast back into Burma via satellite and offered as free usage for international media. Burma VJ offers a unique insight into high-risk journalism and dissidence in a police state, while at the same time providing a thorough documentation of the historical and dramatic days of September 2007, when the Buddhist monks started marching. Amidst protesting monks, brutal police agents, and a shooting military, the reporters embark on their dangerous mission, working around the clock to keep the world informed of events inside their closed country. Amazingly edited, Burma VJ pulls us into the heat of the moment as the VJs themselves become the target of the Burmese government.


Biography:
Anders Østergaard graduated from the Danish School of Journalism. He won several awards for his documentaries The Magus, Tintin et moi, Gasolin and Burma VJ. He made his first big impression in 2006 with Gasolin, a documentary about a singularly popular Danish rock band from the 1970s. Tintin et moi is a film about Hergé, the creator of Tintin, that became Østergaard's international breakthrough. Adding 3D effects to Hergé's cartoons let the camera explore an otherwise two-dimensional universe, while a special animation technique brought the deceased cartoonist back to life.
Producer Lise Lense-Moller founded Magic Hour Films in 1984. The company has produced and co-produced a wealth of award-winning documentaries. She co-initiated the Producer's Education program at The Danish Filmschool and is an occasional instructor. She has led various workshops on script development in documentaries, pitching, and documentary development.


Contact Information:
George Schmalz
Oscilloscope Pictures
511 Canal Street, #5E
New York, NY 10013
E-mail: george@oscilloscope.net
Web site: burmavjmovie.com