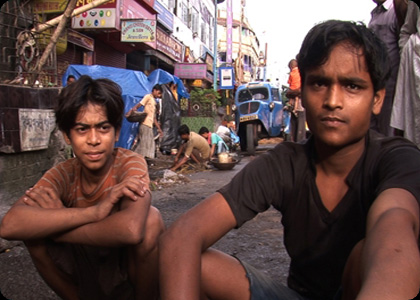 Gold Rush (The Neharawalas)
13' (India)
Director/Producer: Raja Dey


Description:
In the city of Kolkata, India, is the market Bowbazar where gold ornaments are made and sold. People come here from all over the country to buy ornaments for different festive occasions. Gold ornaments are important to Indian culture and festivals, and people consider buying gold an important part of their life. This is where you will also find the Neharawalas. The Neharawalas are people from all age groups that come from far away villages to hunt out the gold from the dirt, sweeping the drains and streets of Bowbazar. They normally distill out the gold from scraps they bargain for from the goldsmiths shop, but they also have another more difficult method. They are very hard workers and are very serious about what they do. The film shows the Neharawalas at work and their process of procuring gold from the gutter, using a secret method they do not share with outsiders.


Biography:
Raja Dey—director, producer and cameraman—founded Hummingfilms. He started as a freelance cinematographer and documentary filmmaker in Kolkata, India. As a cameraman his experience ranges from documentaries to narrative fiction, corporate video, commercials and music videos. Raja has been a faculty member and courses coordinator at Chitrabani since 2002, the social communications center founded by Fr. Gaston Roberge, eminent film scholar and by Mr. Satyajit Ray, world-renowned filmmaker. He also worked as a cinematographer on the 2008 Academy Nominated documentary Salim Baba. Raja made his directorial debut with a docu-drama named Tamanna about female infanticide in rural India.


Contact Information:
HummingFilms.com
Raja Dey
P-49, C.I.T. Road
Kolkata 700010, India
E-mail: rajadey1@gmail.com
Web site: www.Hummingfilms.com