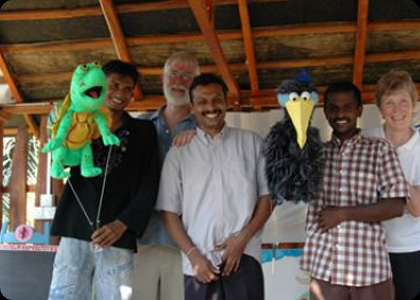 No Strings
29' (USA, Afghanistan, Sri Lanka)
Director: Daniel Junge
Producer: Henry Ansbacher


Description:
When disaster and war occur in the under-developed world, children are often the biggest victims. Veteran aid worker Johnie McGlade believes that relief might come from an unlikely tool—puppetry. In No Strings, McGlade teams up with two of the creators of the Muppets to tackle two very different problems—post-Tsunami stress in Sri Lanka and landmine education in Afghanistan.


Biography:
Daniel Junge's feature-length directorial debut was Chiefs about a Native American basketball team. Junge followed with Reading Your Rights, about a first amendment rights case involving Denver's Tattered Cover bookstore and We Are Phamaly on a disabled theater group. As creative director for the six part series Common Good on social entrepreneurs, Junge oversaw the writing and editing of all episodes, and directed The Learning Zone, My Phamaly, Neighborhood, and Down By the Riverside. Junge's feature documentary of Africa's first female president, Iron Ladies of Liberia won several awards. Junge's most recent feature documentary is They Killed Sister Dorothy, on the murder of American Catholic nun Dorothy Stang in the Brazilian Amazon. As creative director for Just Media, he oversees development and production of all in-house projects.
Henry Ansbacher has produced over twenty-five shorts featuring social entrepreneurs trying to make the world a better place. The feature film Chiefs, a documentary about the Wyoming Indian High School Basketball team, was Ansbachers first feature film producing credit. Ansbacher has collaborated with director Daniel Junge on a number of broadcast documentaries, including Reading Your Rights, We are Phamaly, Come Back to Sudan and the Emmy-winning Big Blue Bear. Their critically acclaimed Iron Ladies of Liberia has screened worldwide as part of the Why Democracy series, and on PBS Independent Lens. Ansbacher's most recent producing effort with Junge is They Killed Sister Dorothy. Ansbacher served as executive producer on the theatrically-released Occupation: Dreamland and the soon-to-be released Wesly Williss Joyrides.


Contact Information:
Just Media
1536 Wynkoop Street #201
Denver, CO 80202
E-mail: info@just-media.org
Web site: www.no-strings.net