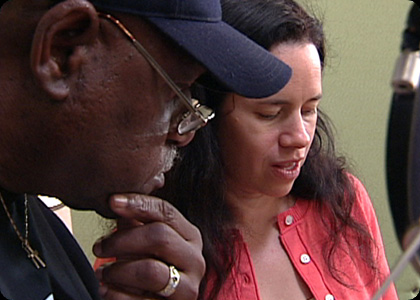 No Good Reason
12' (USA)
Directors/Producers: Lawrence Marshall, Michael Mierendorf


Description:
Musicians and singers from around the country, people who have never met and who are currently or recently homeless, gather in Boston to record a song written by a 15-year-old girl who was homeless when she wrote it. Natalie Merchant (formerly of 10,000 Maniacs) has less than three days to arrange and record the song—in a process that normally takes weeks or months. Working with several artists who have never set foot in a recording studio, Ms. Merchant completes the track, which winds up on a new CD featuring artists such as Bruce Springsteen, Jon Bon Jovi, Jewel, Bonnie Raitt and many others partnering with unknown artists who are currently or recently homeless. The goal: to increase awareness of homelessness in America.


Biography:
Lawrence Marshall works as a video producer, director, and editor for a variety of large corporations, but what really feeds his heart and soul are documentaries related to the human spirit and social justice issues. Many of his productions have been honored, including several Emmy Awards, CINE Golden Eagles, Telly Awards and the Academy Award for Best Documentary / Short Subject in 1988 for the film "Young At Heart", which he edited and co-wrote.
Director Michael Mierendorf began his career in the theater and music, then moved on to broadcast journalism and documentary filmmaking. His films have addressed many difficult social issues especially relating to the subjects of poverty, the environment and the welfare of children. His work has been recognized with a number of prestigious awards including three national Emmys.

Contact Information:
Give US Your Poor
John McGah, Director
UMass Boston
100 Morrissey Boulevard
Boston, MA 02125
E-mail: john.mcgah@umb.edu
Web site: www.giveusyourpoor.org