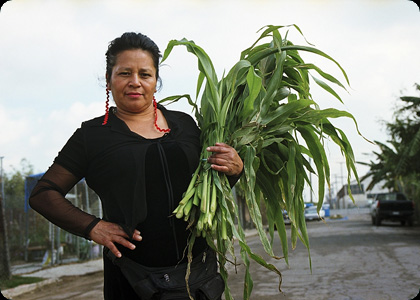 The Garden
80' (USA)
Director: Scott Hamilton Kennedy
Producers: Scott Hamilton Kennedy, Vivianne Nacif, Dominique Derrenger


Description:

The Academy Nominated film The Garden tells the story of the country's largest urban farm, backroom deals, land developers, green politics, money, poverty, power and racial discord. The fourteen-acre community garden at 41st and Alameda in South Central Los Angeles is the largest of its kind in the United States. Started as a form of healing after the devastating LA riots in 1992, the South Central Farmers have since created a miracle in one of the country's most blighted neighborhoods. Growing their own food. Feeding their families. Creating a community. But now, bulldozers are poised to level their 14-acre oasis. The Garden follows the plight of the farmers, from the tilled soil of this urban farm to the polished marble of City Hall. Mostly immigrants from Latin America, from countries where they feared for their lives if they were to speak out, we watch them organize, fight back, and demand answers: Why was the land sold to a wealthy developer for millions less than fair-market value? Why was the transaction done in a closed-door session of the LA City Council? Why has it never been made public?


Biography:

Scott Hamilton Kennedyworkedas a director of music videos, commercials, and promos for clients that have included Tony Bennett, CBS and Mattel. Scott directed second unit on the Showtime movies Last Exit to Earth and Sea Wolf. He worked with Roger Corman to direct four TV features all shot in six days each. Scott's debut documentary, OT: our town, tells the amazing underdog story about the first play in twenty years at Dominguez High in Compton, CA. Scott is in post-production on a documentary Fame High, about the Los Angeles County High School for the Arts (LACHSA). He is also developing several narrative projects including an adaptation of The Garden.
Vivianne Nacif has worked as an actor in theatre and TV for the past twelve years. She worked on the making-of documentary for Paramount's Clear and Present Danger and as an assistant publicist for Fair Game and Dangerous Beauty. She worked as an associate producer for a series of educational videos for LAUSD, which combined her love of production with her passion for under-privileged youth. Currently, Vivianne is in post-production for the short film Unknown.
Dominique Derrenger worked on films like Alive, Desperado, and Higher Learning, and had the opportunity to collaborate with Wes Anderson, Alan Parker and Milos Foreman. He has worked on several documentaries including films by Academy Award-nominated filmmakers Rhyena Halpern and Les Blank. He produced and directed All For One: In The Spirit of The Race.


Contact Information:

A Black Valley Films Release
1622 Elevado Street
Los Angeles, CA 90026
E-mail: jonathan@oscilloscope.net
Web site: www.thegardenmovie.com