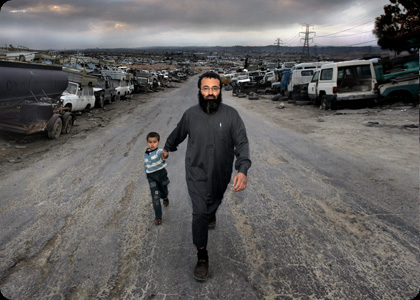 Recycle
90' (Jordan)
Director/Producer: Mahmoud al Massad


Description:
What makes a terrorist? In Zarqa, Jordan's second largest city with close to 1,000,000 people, it is a much-debated question. Zarqa's political Islamists are a powerful force in this industrial center, and Zarqa was the birthplace of Abu Musa al Zarqawi, the brutal leader of Al Qaeda in Mesopotamia before being killed by American forces in 2005. Many in town knew al Zarqawi, many in his family remain, and Zarqa continues to be a source of new recruits to the jihad's cause. Inspired by his reporting on al Zarqawi and Al Quaeda for international news agencies, filmmaker Mahmoud al Massad returned to Zarqa, where he grew up, to make Recycle. With ravishing cinematography that belies the unforgiving landscape, Jordanian/Palestinian filmmaker al Massad charts the daily life of a religious Islamic man trying to survive in one of Zarqa's poorest neighborhoods. With a deceptively calm demeanor, the film slowly unravels the hidden agents of terrorism as poverty, humiliation, lack of opportunity and religious doctrine define the daily rhythms of a man and his family, against the backdrop of an age of jihad that spans the globe.


Biography:
Mahmoud al Massad was born in Zarqa, Jordan. When he was eighteen years old he moved to Europe and lived and worked in the film industry at broadcasting companies in Romania, Italy and Germany making more than twelve short films. Mahmoud divides his time between Jordan and The Netherlands. Since 2002, Mahmoud has been consistently returning to Jordan to work on several projects including Shatter Hassan, Jackie & the 40 Yellow Cabs, Certificate, Ritual, Human Landcape, White Wall, Sufi and others. His latest documentary, Recycle, is currently being shown at many international film festivals. Recycle won the world cinema cinematography award at Sundance 2008 and received the cinema in motion award at San Sebastian. Most recently he is working on his new project: This is my picture when I was dead.


Contact Information:
Icarus Films
32 Court Street
21st Floor
Brooklyn, NY 11201
E-mail: mail@IcarusFilms.com
Web site: www.IcarusFilms.com