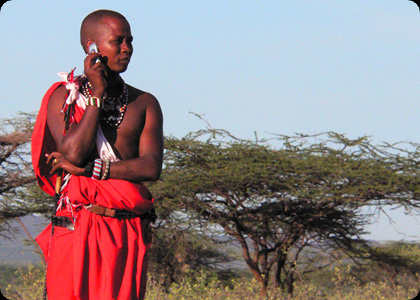 Milking The Rhino
83' (USA)
Director/Producer: David E. Simpson


Description:
The Maasai tribe of Kenya and Namibia's Himba—two of the oldest cattle cultures on earth—are emerging from a century of "white man's conservation," which turned their lands into game reserves, and elevated wildlife for its exoticism at the expense of local people. Having borne the costs while reaping few of the benefits of wildlife, the Maasai and Himba are now vying for a piece of the economic pie and a path towards self-sufficiency. Milking the Rhino depicts people at the cutting edge of "community-based conservation" (CBC), a new paradigm that tries to balance the needs of wildlife and people. It is a movement led by NGO field-workers and social entrepreneurs at the village level. CBC has been touted by environmentalists as "Win-Win"; but the devil is in the details. While the host of a community eco-lodge in Kenya contends "we never used to benefit from these animals but now we milk them like cattle," his neighbor disagrees, "A rhino means nothing to me! I can't kill it for meat like a cow." Charting the collision of ancient lifestyles with Western expectations, Milking the Rhino tells intimate, harrowing and hopeful stories about rural Africans in the midst of deep cultural change.


Biography:
David E. Simpson has crafted award-winning films for twenty-five years. He co-produced and directed When Billy Broke His Head, a documentary about disability culture that won the Sundance Film Festival's Freedom of Expression Award. He recently co-produced and edited Forgiving Dr. Mengele, about an Auschwitz survivor's controversial campaign of forgiveness, which won the 2006 Slamdance Grand Jury Prize for documentaries. David directed Refrigerator Mothers, about a generation of mothers who raised autistic children under the shadow of professionally-promoted Mother-blame. David produced and directed Halsted Street, USA, a multi-award-winning snapshot of America through the prism of one multi-cultural street. His experimental narrative, Dante's Dream, a re-working of Dante's cosmology, earned five 1st Place festival awards. His editing credits include Terra Incognita: Mapping Stem Cell Research; the Kartemquin/PBS series The New Americans; the Emmy-nominated NOVA: Mysterious Crash of Flight 201; Frontline/Marian Marzynski's Shtetl; 5 Girls; Vietnam Long Time Coming; and an episode of The People's Century for BBC/PBS.


Contact Information:

Kartemquin Films
Xan Aranda
1901 W. Wellington
Chicago, IL 60657
E-mail: Xan@Kartemquin.com
Web site: www.MilkingTheRhino.org