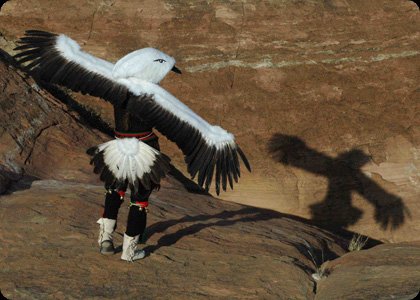 Reclaiming Their Voices: The Native American Vote in New Mexico
29' (USA)
Director/Producer: Dorothy Fadiman
Photo by Alice Fernando-Ahmie


Description:
Reclaiming Their Voices documents ways in which Native Americans have been disenfranchised over centuries, and are now becoming politically active. A little known fact: Native Americans living on reservations were the last ethnic minority to have been granted the right to vote in the United States. In this film, we meet Native Americans who are stepping forward, and speaking out against injustice. We learn how they are reclaiming their voices through education and action. The film follows two stories in New Mexico—the Laguna tribe's groundbreaking voter registration drive in 2004 and the Sacred Alliance for Grassroots Equality's (SAGE's) work to preserve sacred petroglyphs.


Biography:

Dorothy Fadiman has been producing award-winning media with a focus on social justice and human rights since 1976. She lives in Menlo Park, California, where she moved to pursue graduate work in communication studies at Stanford University. Subjects range from the light of Spirit in every faith (Radiance: The Experience of Light and Celebration) to progressive education that honors children's natural knowing (Why Do These Kids Love School?) to the extraordinary healing journey of a woman with a spinal cord injury (Moment by Moment: The Healing Journey of Molly Hale). Her interest in women's issues includes: Woman by Woman: New Hope for the Villages of India, a three film series From the Back Alleys to the Supreme Court & Beyond and From Risk to Action: Women and HIV/AIDS in Ethiopia, film series, Seeds of Hope: Meeting the Challenges of HIV/AIDS in Ethiopia. Her current projects include a documentary exploring a spectrum of "irregularities" in the 2004 Presidential election and another on the disenfranchisement of Native American voters. Among her honors are an Oscar nomination, an Emmy, the Gold Medal from the Corporation for Public Broadcasting, and more than fifty other film awards. In addition to producing documentary films, Dorothy teaches, gives seminars, leads workshops, and trains interns in filmmaking.


Contact Information:

Dorothy Fadiman
Concentric Media
PO Box 1414
Menlo Park, CA 94026
E-mail: info@concentric.org
Web site: www.concentric.org