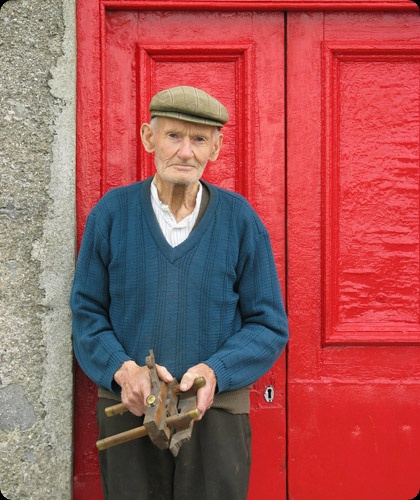 A Film From My Parish - 6 Farms
7' (Ireland)
Director: Tony Donoghue
Producer: Janet Grainger


Description:
A Film from My Parish-6 Farms crackles with an almost manic nervous energy that is completely unexpected for a celebration of rural, Irish life. Traditional farming goes beyond the world of crop rotation and animal husbandry. In this film, filmmakers explore farm traditions that include hand painted furniture, home made sheets, general repairing and recycling. These six farmers are not eco warriors, but they do embody traditional farming attitudes of sustainability and working with the land. In keeping with the sustainable nature of these farms, this film was made in a green way. The film was shot with two cheap digital still cameras, a tripod, a minidisc recorder and a bicycle. A full 95% of filming was done in natural light.


Biography:
Tony Donoghue worked as a zoologist at the Natural History Museum in London before becoming a filmmaker. He studied animation at West Surrey College of Art and now researches farm and rural traditions. It is from this research that his film and photography projects originated. His focus is to work with recycled resources to make animated films by locating recycled goods and using mainly natural light to light the sets. Currently he is photographing and studying late 18th and 19th century gravestones which will culminate in a guidebook commissioned by the local county Heritage Office. He is also working on a follow-up film which will again center on rural life and follow the restoration and return into daily use of 2 pieces of old damaged folk furniture. Donoghue's recent projects include design work and workshops at The Ark, a Cultural Centre for Children in Dublin, Ireland.


Contact:
Derry O'Brien
Network Ireland Television
23 South Frederick Street
Dublin 2 0
IRELAND
E-mail: tonydonoghue@gmail.com