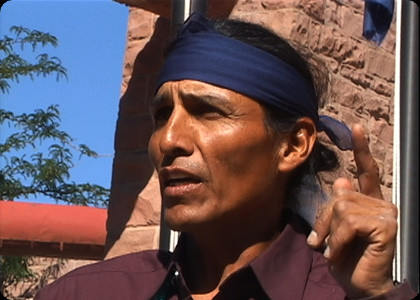 Power Paths
53' (USA)
Director: Bo Boudart
Producers: Bo Boudart, Christopher Philipp, Norman Brown, Steve Michelson


Description:
Power Paths, narrated by Peter Coyote, tells an important human story about America's struggle to understand, accept and implement a new path toward true energy security. By revealing the experiences of unsung heroes among America's native Indian Tribes, a wider public interest is raised in a dynamic and entertaining way as energy visionaries pursue the vast potential of America's renewable energy field. Power Paths depicts the struggle Indian leaders and their allies face in harnessing the abundant natural forces of the sun and wind found on millions of acres of Tribal lands. The film's characters are revealed as we watch them work towards an energy agenda aimed at securing both the futures of their people and America at large. The inspiring stories in this film portray our potential for success in producing the power we need while preserving our planet's livability; and in telling these stories, Power Paths exposes fundamental truths that will change the way we look at energy forever.


Biography:
Bo Boudart has written, produced and filmed PSA campaigns and documentary, corporate, promotional, dramatic and educational programs for PBS, the Discovery Channel, CBC and NHK Network. Recent projects include Oil on Ice as co-producer and principal videographer. It is a film on issues of energy policy, Alaska Natives, and conservation of the Arctic National Wildlife Refuge. Oil on Ice won the International Documentary Association Pare Lorentz Award and the Silver Hugo Award, and was nominated Best Feature documentary at the American Indian Film Festival.
Christopher Philipp has over twenty-five years of media production experience, including videography and location production for Oil on Ice. His videography awards include an Emmy given by Northern California's National Academy of Television Arts and Sciences for Television News, and a Silver Envision Award for videography for Dreams and Challenges.
Co-producer Norman Brown is Navajo and wrote, produced and directed Rez Hope, a docu-drama to educate Native American communities about the effects of alcohol and substance abuse. He developed an outreach program to the greater Native American population designed to promote discussion of these problems with the New Mexico state agencies, community health groups and youth organizations. Brown has also written, directed and produced Horse Song, a TV drama about diabetes and Kei' Bidziil, which was a four-part TV series about strong family relations.


Contact Information:
Power Paths Partners
PO Box 7395
Menlo Park, CA 94026
E-mail: bo@powerpaths.tv
Web site: www.powerpaths.org/about.html