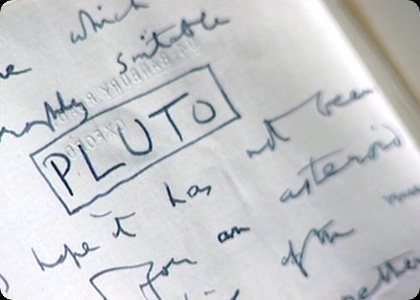 Naming Pluto
13' (United Kingdom)
Director/Producer: Ginita Jimenez


Description:

Naming Pluto is the story of Venetia Burney Phair, the only person alive to have ever named a planet. As an eleven-year old Oxford schoolgirl in March 1930, she came up with the suggestion for the name of the newly discovered Planet X over a family breakfast, making a unique contribution to scientific history. On August 24, 2006, Venetia witnesses another moment in Pluto's life when the International Astronomical Union formally downgrades Pluto to a dwarf planet, splitting the scientific community and undoing seventy years of learning for millions of children around the world. The film focuses on a previously undocumented chapter of astronomical history and uses exclusive interviews with Venetia as well as her collection of impeccably preserved scrap books painstakingly managed by her grandfather, Falconer Madan, at the time of Planet X's discovery. Telegrams, letters, photographs and 1930s press cuttings support Venetia's involvement in astronomical history. In the weeks following Pluto's demotion Sir Patrick Moore, CBE, renowned author and astronomer, invites Venetia to view Pluto through his home telescope. However, because of its vast distance from Earth, a conclusive viewing of the planet does not materialize. Venetia waits one year later for another opportunity to view Pluto, this time at the Science Observatory in Herstmonceux, England—on the eve of her 89th birthday.


Biography:
Having trained at the Arts Educational School, Bristol University and Brighton Film School, Ginita Jimenez worked on a number of short films before founding Father Films in 2005 to produce her first super 16mm film, String. The following year she began work as a freelancer in television, producing music documentaries and directing envrionmental documentaries for the UNEP. Her work as a producer for back2back productions includes, Strictly Male Voice for the BBC, Paul Potts: By Royal Command for ITV1 and Earth Report programs for BBC World. Her director/producer work for the United Nations Environment Program, also for back2back, produced films centered in Africa and Asia as well as in her native Spanish language in South and Central America.


Contact Information:

E-mail: ginita@fatherfilms.com
Web site: www.fatherfilms.com/films/namingpluto/