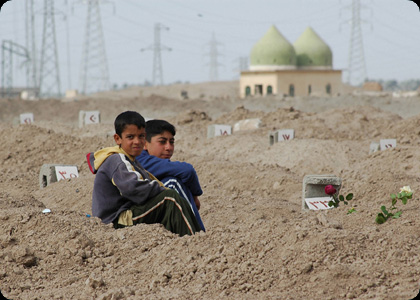 The Road to Fallujah
82' (Iraq, USA)
Director: Mark Manning
Producers: Mark Manning, Natalie Kalustian, Rana Al-Aiouby


Description:
Mark Manning is the only westerner to live with the people of Fallujah, Iraq immediately following the November 2004 battle that destroyed their ancient and holy city. With unique access to both sides of the conflict, The Road to Fallujah gives a voice to the people directly involved and affected by the war. The film gives a detailed analysis of the circumstances that led to the siege of Fallujah, the actual events of the siege itself, and the consequences of the battle that have shaped the present situation in Iraq and beyond. With a clear presentation of the reality on the ground in Iraq, the film provides a human perspective of U.S. policy in the Middle East, offering a new direction towards solutions to the current crisis and a guide for future foreign policy decisions.


Biography:
Mark Manning is currently in two joint productions with Iraqi filmmakers, in development on a feature film, and is in post-production on a feature documentary that takes an in-depth introspective look at the American culture and people in a post-911 environment. He has been interviewed on numerous radio, print and television outlets concerning his experience in Iraq and his film Caught in the Crossfire: The Untold Story of Fallujah, and his project on American culture American Voices. Manning began his career as a professional deep sea diver working in the offshore oil fields for twenty-two years. In 2003, Manning retired from his diving career, decided to put his problem-solving skill set into socially responsible filmmaking and founded ConceptionMedia, a production company specializing in documentaries.
Natalie Kalustian has been producing films with Mark Manning and ConceptionMedia since 2004. Natalie also holds an MA in healing science and, when not producing films with ConceptionMedia, maintains a private healing practice. Her passion for filmmaking lies in its power to transform and heal through socially conscious, balanced and informative media.
Rana Al-Aiouby received a degree in French literature and language from Al-Musstanssria University Baghdad in 1996 and worked as a private tutor until the US-led invasion in 2003. She has done research and interpretation/translation for the news organizations BBC-TV News, BBC Web site, ABC News, Al Jazeera, Polish Radio, and De Morgen. In 2005, she co-founded and serves as executive director of International Peace Angels, an NGO which provides direct humanitarian relief to areas of conflict inside Iraq.


Contact Information:
ConceptionMedia
Film Production
PO Box 2219
Santa Barbara, CA 93120
E-mail: rtf@conceptionmedia.net
Web site: www.theroadtofallujah.com