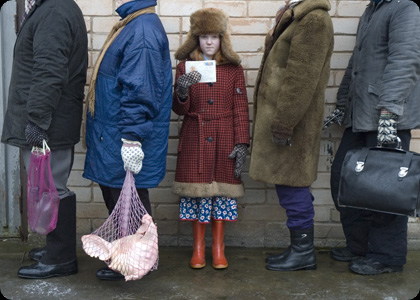 Disco and Atomic War
80' (Estonia, Finland)
Director: Jaak Kilmi
Producer: Kiur Aarma


Description:
Did disco cause the collapse of the Soviet Union? According to this lighthearted and informative film, nighttime soap operas and disco-dancing footage had as much to do with the Soviet's demise as did any political movement. Disco and Atomic War tells the story of a strange kind of information war, where a totalitarian regime stands face to face with the heroes of popular culture. Despite a ban on western media, from the 1950s onward many Estonias were able to easily pick up Finnish radio and television broadcasts from across the border with homemade antennas. Western popular culture had an incomparable role shaping Soviet children's worldviews in those days—in ways that now seem slightly odd. Finnish television was a window to the world of capitalism's pleasures that the authorities could not block. Blending dramatic reconstructions with talking heads and archival footage, the film includes some brilliant scenes such as, for instance, the filmmaker's rural cousin Urve reading the latest "Dallas" plot developments to the entire town.


Biography:
Jaak Kilmi was born in Talinn, Estonia. He began studying cinematography in 1992 at the Talinn Pedagogical University Film Department, choosing directing as his main optional subject. During his six years of studies, he made three short films: Aguli-Ellinor, Ta-Ram Ta-Ram and Külla Tuli. The latter won the Grand Prix du Jury at the 1998 Rencontres Inernationales Henri Langlois, as well as awards at a number of other festivals (Angers, Oberhausen, Potsdam, Stuttgart). Following the completion of his studies, Jaak Kilmi directed two other short films: Tähesoit and The Human Camera. Jack Kilmi is a member of the Estonian Film Critics Union and writes numerous articles for the specialist press.
Kiur Aarma is an Estonian television journalist. He graduated from the University of Tartu in 1997. Aarma is also a writer and producer. Among the films on which he has worked is Sinimäed, a documentary about the Battle of Tannenberg Line, which he produced and helped write.


Contact:
OÜ Eetriüksus
Kiur Aarma
E-mail: kiur.aarma@ruut.com
Web site: www.Ruut.com