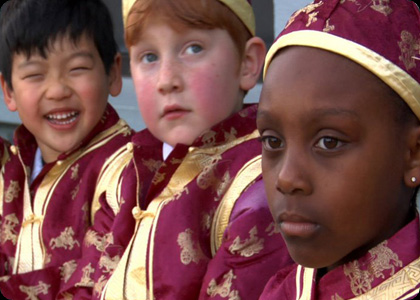 Speaking in Tongues
60' (USA)
Directors/Producers: Marcia Jarmel, Ken Schneider


Description:
In a time where thirty-one states have passed English Only initiatives, one urban school district is exploring the provocative notion that speaking a foreign language can be a national asset. We follow four diverse students and their families as they encounter the challenges and delights of becoming fluent in two languages. As we witness their journey, we see how speaking more than one language changes them, their families, their communities, and maybe even the world.


Biography:
Marcia Jarmel founded PatchWorks with Ken Schneider in 1994. Her best-known work is Born in the U.S.A., which aired on the PBS series Independent Lens and was hailed as the "best film on childbirth" by the former director of maternal health at the WHO. Marcia's other films include Collateral Damage, a mother's lament about the human costs of war that screened as part of Underground Zero: Filmmakers Respond to 9/11; Return of Sarah's Daughters examines the allure of Orthodox Judaism to secular young women; The F Word: A Short Video about Feminism uses whimsical animation and interviewsto foster discussion on this so-called contentious topic; co-editing the Academy Award nominee, For Better or For Worse, and assistant producing the Academy Award nominees Berkeley in the Sixties and Freedom on My Mind.
Ken Schneider is producer, editor and sound recordist for PatchWorks films. He is also an accomplished freelance editor whose credits include Academy Nominated film Regret To Inform; Bolinao 52 about Vietnamese boat refugees; the PBS American Mastersspecials Orozco: Man of Fire and Ralph Ellison: An American Journey; POV special Freedom Machines, about the convergence of disability, technology and civil rights; PBS The Good War and Those Who Refused to Fight It; PBS special and Golden Gate award winner Store Wars: When Wal-Mart Comes to Town; Frontline's Columbia-Dupont Award-winning School Colors, a look at integration and segregation forty years after Brown v. Board of Education; and Ancestors in the Americas, Part 2: Pioneers in the American West, about the Chinese-American experience.


Contact Information:
Marcia Jarmel
PatchWorks Films
663 7th Avenue
San Francisco, CA 94118
E-mail: marcia@patchworksfilms.net
Web site: www.patchworks.net