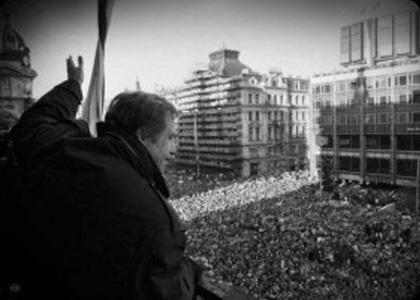 The Power of the Powerless
78' (Czech Republic)
Director: Cory Taylor
Producers: Darin Nellis, Jonathan Terra


Description:
The Power of the Powerless, narrated by Academy Award winner Jeremy Irons, examines the harmful effects of erasing history, twenty years after the fall of communism in Czechoslovakia. Featuring original interviews with dissidents such as former President Vaclav Havel, this film tells the inspirational story of the Velvet Revolution of 1989, and asks why Czech youth aren't being taught about it. Though the filmmakers state they are "not naive enough to think we can precisely replicate the actual experience of persecution in this film," they strongly believe that the subjects of persecution, responsibility and human rights are essential issues to raise internationally, particularly for audiences of young people, if we are to continue to build on the privileges of freedom and democracy so often taken for granted.


Biography:
Cory Taylor is an Emmy Award-winning documentary filmmaker who began his career working as a photographer and editor for National Geographic. He has fifteen years of experience writing, producing and editing documentaries for PBS, National Geographic, NBC, Discovery Channel. His award-winning film, A Quiet Revolution, narrated by Meryl Streep and featuring Nobel Peace Prize Laureate Wangari Maathai, brought attention to human and ecological security issues and Another Way of Seeing Things, narrated by F. Murray Abraham, dealt with the issue of tolerance in the media.
Jonathan Terra has over twenty years of experience as a scholar and educator focusing on democratization and political change. He is a senior lecturer at the Anglo-American College in Prague and advisor to the European Initiative for Democracy and Human Rights in Brussels. He is also a former adjunct professor at the Center for Economic Research and Graduate Education-Economics Institute (CERGE-EI) in Prague. Terra holds a PhD in political science from Stanford University.
Darin Nellis has twenty years of experience working in business management and community relations for private, public and nonprofit entities in the U.S. and Africa. Nonprofit and public positions included community development officer at The United Way of Greater LA, Loyola Marymount Peace Corps Fellow, community development agent for the U.S. Peace Corps and volunteer and outreach coordinator for the American Oceans Campaign.


Contact Information:
Agora Productions
PO Box 452688
Los Angeles, CA 90045
E-mail: info@agoraproductions.org
Web site: www.thepowerofthepowerless.org/