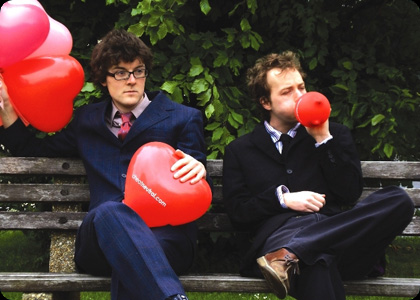 Cheat Neutral
13' (United Kingdom)
Director/Producer: Beth Stratford


Description:
Since the 1960s, concentrations of heartbreak, cheating and jealousy in the atmosphere have risen dramatically. CheatNeutral.com offers a unique market-based solution to this essential problem of modern life. For the cost of a condom, those who have cheated on their partners—whether a drunken hook-up at the office party or a sustained period of bigamy—can have their cheating 'offset' by a global network of fidelity. This hilarious film follows satirical Web site creators Alex Randall and Christian Hunt as they try to sell the idea of cheat offsetting to a bemused public. From the high street to the Houses of Parliament, they spark an important and timely debate about the inadequacies of carbon offsetting.


Biography:
Beth Stratford is a London based filmmaker particularly keen to find accessible, humorous, ways to engage people with climate change, energy scarcity, economic meltdown and other jolly issues of our time. She made Cheat Neutral shortly after finishing a degree in politics; the idea was to use viral marketing and a healthy dose of satire to take environmental messages where they wouldn't otherwise go. Since then she has produced a series of short films for Channel Four's Iraq War season, and worked as an archive researcher for ten months on The Age of Stupid, a climate change epic starring Pete Postlethwaite.


Contact Information:
John Hoskyns-Abrahall
Bullfrog Films
372 Dautrich Road
Reading, PA 19606
E-mail: john@bullfrogfilms.com
Web site: www.bullfrogfilms.com