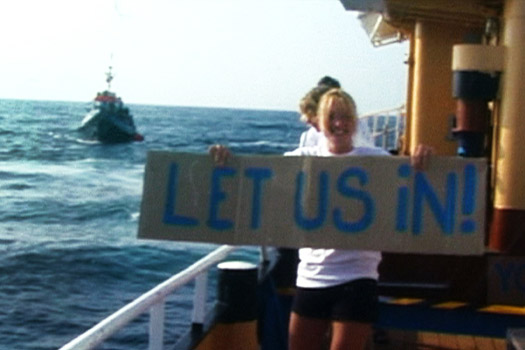 Saturday 10/24, 1:00 PM (Session 20)
Director: Diana Whitten
Producer: Diana Whitten, Mitchell Block
Description:
Rebecca Gomperts, horrified by the realities created by anti-abortion law around the world, felt compelled to challenge this. Her method: to provide abortions on a ship in offshore waters. Her project, Women on Waves, begins as flawed spectacle, a media frenzy, faced with governmental, religious, and military blockades. We witness the creation of an underground network of activists working at the edge of global reproductive rights, who trust women to handle abortion themselves. Vessel is Rebecca's story: one of a woman who heard and answered a calling, and transformed an improbable idea into a global movement.
Biography:
Diana Whitten has a decade of professional film/TV direction, production and design experience. She founded Sovereignty Productions, following a Fulbright Fellowship to Indonesia, and was the director of communications at Ford Foundation International Fellowships Program. Vessel, her first feature film, premiered at South by Southwest Film Festival and won the Audience Award in the Documentary Competition, as well as a Special Jury Award for Political Courage. Awards include the inaugural Peter Wintonick Award from Sheffield DocFest, an Honorable mention for the Moving Mountains Award at Mountainfilm in Telluride, and the Adrienne Shelly Excellence in Filmmaking Award.
Mitchell Block has handled the distribution and marketing of hundreds of documentary, live action, and animated shorts films and documentary features—twenty-five have won Oscars and seventy-one have received Academy Award nominations. He is president of Direct Cinema Limited, a member of the Academy of Motion Picture Arts and Sciences, the Television Academy, a founding member of BAFTA-LA, and a life member of the UFVA and the IDA. Recent work includes the Emmy Award winning PBS series Carrier, and the Oscar-nominated short documentary Poster Girl.
Contact Information:
e: dianalylewhitten@gmail.com
w: www.vesselthefilm.com
©2015 United Nations Association Film Festival (UNAFF)