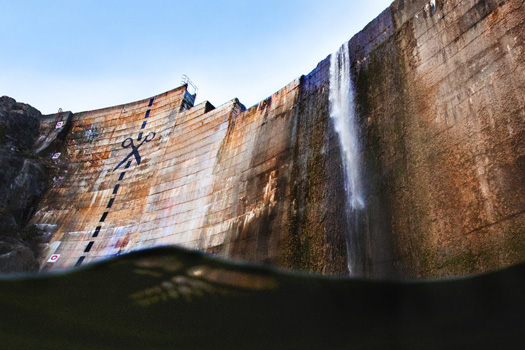 Sunday 10/25, 4:00 PM (Session 24)
Director: Ben Knight, Travis Rummel
Producer: Matt Stoecker, Travis Rummel
Description:
This powerful film odyssey across America explores the sea change in our national attitude from pride in big dams as engineering wonders to the growing awareness that our own future is bound to the life and health of our rivers. Dam removal has moved beyond the fictional Monkey Wrench Gang to go mainstream. Where obsolete dams come down, rivers bound back to life, giving salmon and other wild fish the right of return to primeval spawning grounds after decades without access.
Biography:
Ben Knight, a self-taught photographer and filmmaker, jumped ship after a decade at a daily newspaper just before the industry began cutting back and rolled the dice with his friend Travis, starting a small production company called Felt Soul Media. Ben was raised in North Carolina, but has spent the past seventeen years in Telluride, Colorado where he spends the majority of his time in a dimly lit room obsessing over how best to tell a story with images and sound.
Travis Rummel: Over the past ten years Travis has honed his filmmaking craft from the ground up. Partnering with Ben Knight in 2004, the two became known for their award-winning short films within the tiny genre of fly fishing. In 2007, Red Gold, their first feature documentary, was released to critical acclaim and helped create awareness of the proposed Pebble Mine in Alaska's Bristol Bay. Firm believers in the power of film to effect positive change, Travis and Ben continue to gravitate towards environmental storytelling.
Matt Stoecker is a biologist and photographer focused on restoring rivers and wild fish populations. Matt has worked on more than fifty fish-passage projects, including the removal of several obsolete dams. He is on the Technical Advisory Committee for the Matilija Dam removal project and works as a river ecologist with the Marine Science Institute at U.C. Santa Barbara. Matt is also the director of Beyond Searsville Dam, a nonprofit coalition advocating the removal of Stanford University's unnecessary and destructive Searsville Dam. In 2009, along with project partners, Matt received the Riparian Challenge Award from the American Fisheries Society for the removal of steelhead migration barriers on Carpinteria Creek.
Contact Information:
e: mark@bullfrogfilms.com
w: www.damnationfilm.com
©2015 United Nations Association Film Festival (UNAFF)