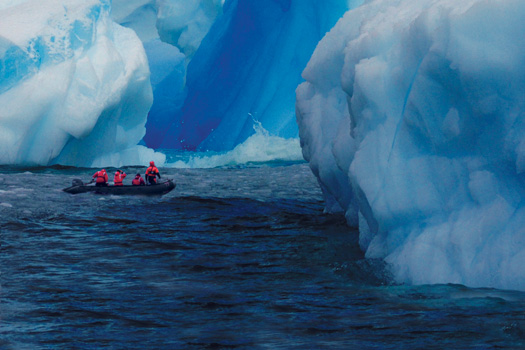 Sunday 10/25, 4:55 PM (Session 24)
Director: Dena Seidel
Producer: Steve Holloway, Xenia Morin, Rick Ludescher
Cinematographer: Chris Linder, Dena Seidel
Description:
Antarctic Edge: 70° South is a science-in-action film, following a renowned team of scientists studying climate change in the fastest winter-warming place in the world. This is the first time in history that the Long-Term Ecological Research (LTER) project at Palmer Station has ever been documented on film—a once-in-a-lifetime opportunity for viewers to follow the historic mission of prominent climate change scientists who push the limits of their research and come to terms with the sacrifices necessary to study and ultimately prepare for global climate change.
Biography:
Dena Seidel was the director of the Rutgers Center for Digital Filmmaking and also supervised the Rutgers Film Bureau, the university's professional documentary office. Seidel spent 6 weeks in Antarctica with scientist Oscar Schofield  directing the feature documentary Antarctic Edge: 70° South funded by the National Science Foundation. Other films she produced with her Rutgers staff and students include Generation at Risk: Joining Forces to Fight Childhood Obesity and The War After: From Combat to Campus. Prior to Rutgers, Seidel worked on films for National Geographic, Discovery Channel, Channel 13/WNET, HBO, ABC, The Learning Channel, WGBH Boston, Turner Broadcasting and Court TV. She is the recipient of a New York Emmy Award for Outstanding Editing and a New York Festivals Award for Best Editing. The two-hour Discovery Channel special, Carrier: Fortress at Sea, edited by Seidel, won the Emmy for Best Documentary in the category of Outstanding Cultural Programming.
Steve Holloway is a member of the Rutgers Film Bureau production team. As a Rutgers student, Holloway traveled to Thailand where he was a cinematographer and co-producer of Thailand Untapped, nominated for a Mid-Atlantic Emmy for Best Documentary. Holloway's film The Rings We Bear won Best Picture at the 2012 Campus Movie Fest and screened at the Cannes Film Festival. Holloway is also the co-producer and editor of Antarctic Edge: 70° South.. Holloway is a cinematographer and editor for Film Bureau project Generation at Risk and a cinematographer and co-field producer for the Film Bureau feature film The War After: From Combat to Campus.
Contact Information:
e: hollowst@rci.rutgers.edu
w: www.beyondtheice.rutgers.edu
©2015 United Nations Association Film Festival (UNAFF)