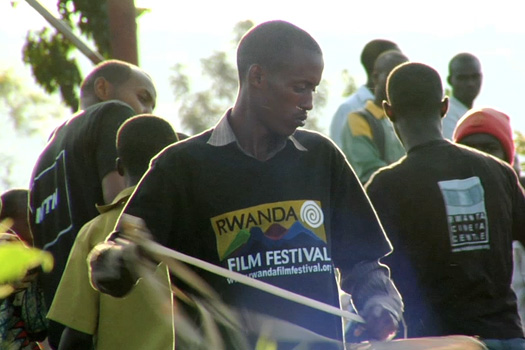 Monday 10/19, 7:40 PM (Session 11)
Director: Leah Warshawski, Christopher Towey
Producer: Charles Todd Soliday, Leah Warshawski, Christopher Towey
Description:
Set amongst the hills of Rwanda, Finding Hillywood chronicles one man's road to forgiveness, his effort to heal his country, and the realization that we must one day face our past. A unique and endearing phenomenon film about the very beginning of Rwanda's film industry and the pioneers who bring local films to rural communities on a giant inflatable movie screen. For most Rwandans, this is the first time they have seen a film, let alone one in their local language, "Kinyarwanda." Thousands show up to watch films in stadiums next to mass graves and locations where horrible crimes took place during the genocide.
Biography:
Leah Warshawski began her film career in Hawaii working for major motion pictures and television shows on the water including Baywatch, Lost and Survivor. Since then she has produced content in more than thirty countries for major television networks and corporations. She specializes in producing and directing documentary-style programming and films in remote parts of the world. She is a co-founder of rwandafilm.org, and she has worked on some aspect of Finding Hillywood almost every day since August 2007. Her next project Big Sonia is currently in production.
Christopher Towey has worked in the film industry for nearly three decades, and specializes in production around the globe. Towey has served as the director of photography on feature-length documentaries including Blackfish, a Sundance-featured film that explores the exploitation of animals for the entertainment business;Bear Trek (post-production), which follows a biologist as he researches bears and climate change in Alaska and Peru; andTrade Off, which examines World Trade Organization and its impact leading up to the 1999 Seattle riots, and was an official selection at film festivals in Canada and the US.
Todd Soliday is Emmy Award-winning director, editor, post supervisor, and visual effects artist. Todd has over twenty-five years experience on projects around the globe, specializing in documentary storytelling, broadcast marketing, and promotion. His most recent projects include Platinum: The Mt. Baker Legendary Banked Slalom and Voyage: Alone Across The Atlantic. He is currently editing a feature documentary Out of Luck and co-directing/editingBig Sonia.
Contact Information:
e: leah@inflatablefilm.com
w: www.findinghillywood.com
©2015 United Nations Association Film Festival (UNAFF)