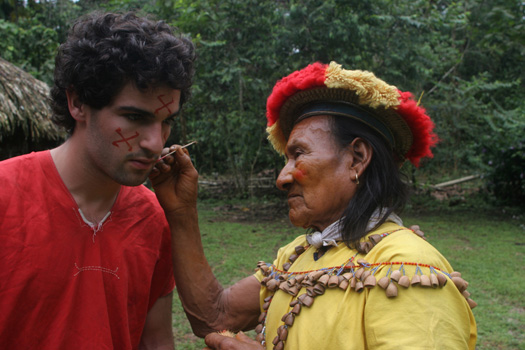 Sunday 10/18, 7:45 PM (Session 10)
Director: Francine Strickwerda, Laurel Spellman Smith
Producer: Stir It Up Productions LLC
Description:
Oil & Water is the true story of two boys coming of age as they each confront one of the world's worst toxic disasters. Hugo and David were born on opposite ends of the oil pipeline. Hugo comes to America to fight for the survival of his Cofan tribe in the Ecuadorian Amazon, while David goes to Ecuador to launch the world's first company to certify oil as "fair trade." Their journeys lead them to explore what could be a more just future, not just for the Cofan, but for all people around the world born with oil beneath their feet.
Biography:
Francine Strickwerda is an award-winning director, writer and producer of documentary films and Web sites. She co-directed the feature film Oil & Water for PBS, as well as Busting Out, a feature documentary about the history and politics of America's obsession with the female breast, which aired on Showtime. An expert film fundraiser and grant writer, her work has been funded by the MacArthur Foundation and the prestigious Independent Television Service and many others. She produced and executive edited national PBS Web sites including Don't Buy It, Videogame Revolution and Exploring Space, and was a senior producer at HealthTalk.com. She currently runs Hullabaloo, a Seattle production company with her husband, and she has created videos for clients including the United Nations, Fortune 500 companies and the Seattle Fire Department.
Laurel Spellman Smith is a two-time regional Emmy Award-winning producer of national and local programs for PBS including The NewsHour with Jim Lehrer and the documentary Faith & Fear: The Children of Krishna. In addition to Oil & Water she co-directed and produced the women's health documentary Busting Out which aired on Showtime and the Iraq War documentary The Corporal's Diary, seen on PBS stations, Al Jazeera English and Link TV.
Contact Information:
e: mark@bullfrogfilms.com
w: www.oilandwaterdocumentary.com
©2015 United Nations Association Film Festival (UNAFF)