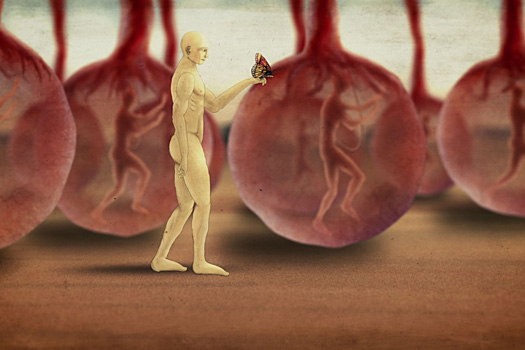 Manislam - Islam And Masculinity




(62 min) Bangladesh/Indonesia/Kuwait/Norway/Pakistan/Turkey

[watch trailer]

Saturday 10/24, 6:10 PM (Session 22)
Director: Nefise Özkal Lorentzen
Producer: Jørgen Lorentzen
Description:
This film examines the burdens of manhood within Islamic cultures. The main characters, bravely and frankly, share deeply personal memories and experiences in their effort to highlight and question the role of men in contemporary Islam. The film follows director Nefise Özkal Lorentzen's voyage into understanding masculinities. She wishes to undress Muslim men from their patriarchal heritage. She will question the patriarchal tradition and search for the burdens of manhood in Islamic cultures, and she will pursue and discuss the freedom of men, democracy and equality, violence and oppression, emotionality and male sexuality.
Biography:
Nefise Özkal Lorentzen is a Turkish-Norwegian writer, filmmaker and producer living in Oslo. She received her BA in political science at Bosphorus University in Istanbul and her MA in media and communication at the University of Oslo. Over the past two decades she has produced and directed several controversial documentaries related to Islam. As a result of her dedication to the LGBTQ community and human rights activism through her films, she has been named one of the Top Ten immigrant role models in Norway. Her trilogy of films entitled, Gender Me, A Balloon for Allah and ManIslam, brings alive these untold stories through public visibility. She was nominated for the History Makers Award in NYC. Nefise is currently the main lecturer for documentary films at Nordland Art and Film School. Utilizing her workshop concept, "gender activism through films", she has been cooperating with various NGOs, and hopes one day gender segregation and violence against women will be a long-forgotten aspect of history.
Jørgen Lorentzen is a Norwegian gender researcher, film producer and writer. He has written several books and published a series of articles. As a film producer, he has produced controversial documentaries and TV series for director Nefise Özkal Lorentzen. He has worked as the leader of Norwegian Non-Fiction Writers and Translators Organization for six years. He is currently working as a director at Hedda Foundation.
Contact Information:
e: neflor@yahoo.com
w: www.integralfilm.com
©2015 United Nations Association Film Festival (UNAFF)