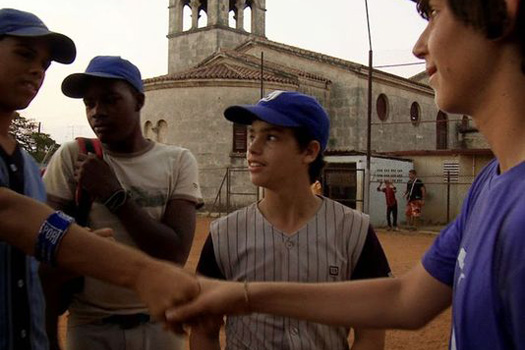 Thursday 10/22, 5:45 PM (Session 16)
Director/Producer: Ken Schneider, Marcia Jarmel
Description:
Mica is a classic teen. Enthusiastic. Idealistic. Dreaming baseball. At thirteen, he is studying of his Bar Mitzvah, the Jewish coming of age ritual. An earnest kid, he takes to heart his Rabbi's requirement to help 'heal the world.' Imagining himself savior of sorts, he launches a grand plan to send baseballs to Cuba, a country with a mysterious pull. He knows only that Cubans love baseball and have few resources,and that they saved his grandpa's life. On a hunch, his filmmaker parents pick up their camera. They know the US embargo of Cuba, and the complications of growing up, will throw him a curveball.
Biography:
Ken Schneider is producer, editor, and sound recordist for PatchWorks Films. He co-edited the feature documentary Regret To Inform, winner of the Peabody Award, Indie Spirit Award and Sundance Film Festival Directing Award, as well as the IDA Award and was nominated for an Academy Award and a National Emmy. He co-produced and edited Soft Vengeance, which was featured at the Ford Foundation's celebration of South Africa's 20th anniversary of transitioning to democracy. Other editing credits include Bolinao 52 about Vietnamese boat refugees; the PBS American Masters specials Orozco: Man of Fire and Ralph Ellison: An American Journey; POV special Freedom Machines, about the convergence of disability, technology and civil rights; PBS primetime special The Good War and Those Who Refused to Fight It, won awards from both the American Historical Association and Organization of American Historians; PBS special and Golden Gate award-winner Store Wars: When Wal-Mart Comes to Town.
Marcia Jarmel founded PatchWorks with Ken Schneider. Marcia's other films include Collateral Damage, a mother's lament about the human costs of war as part of Underground Zero: Filmmakers Respond to 9/11. Return of Sarah's Daughters examines the allure of Orthodox Judaism to secular young women. The hour-long documentary won a CINE Golden Eagle, National Educational Media Network Gold Apple, and 1st Place in the Jewish Video Competition. Her first film, The F Word: A short video about Feminism uses whimsical animation and interviews to foster discussion on this so-called contentious topic. Marcia's additional credits include producing and directing films for the San Francisco World Music Festival, co-editing the Academy-award nominee, For Better or For Worse, and assistant producing the Academy Award-nominees, Berkeley in the Sixties and Freedom on My Mind.
Contact Information:
e: marcia@patchworksfilms.net
w: www.havanacurveball.info
©2015 United Nations Association Film Festival (UNAFF)