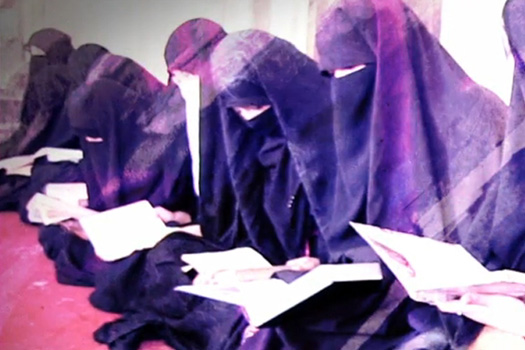 The Girls Of The Taliban




(48 min) Afghanistan/UK



Saturday 10/17, 7:20 PM (Session 7)
Director: Najibullah Quraishi
Producer: Jamie Doran
Description:
With a new wave of privately run religious schools being opened across Afghanistan, there is a growing feeling among women's rights groups that basic rights and education for girls are again under threat. Arguably the most controversial of these schools is Ashraf-ul Madrasa in Kunduz, founded by two local senior clerics, where 6,000 girls study full-time. The founders say the goal of the madrasa is to help young women achieve their full potential by understanding the history and basic teachings of Islam. The girls are taught by male teachers, who they are forbidden from meeting face-to-face, and full hijab must be worn.
Biography:
Najibullah Quraishi is a multiple award-winning director/producer of high profile international documentaries, specialising in Asia and Arab countries. Recent films The Dancing Boys of Afghanistan, Behind Taliban Lines and Opium Brides have been broadcast by Channel 4, PBS, Aljazeera and others. Najibullah's professional career began in his home country of Afghanistan, where he worked for ten years as a producer and presenter covering hard-hitting subjects for Afghan national TV. After successfully collaborating on the film Afghan Massacre: Convoy of Death, he won two Rory Peck awards at that year's ceremony. He has since won a number of other prestigious awards including the Alfred I DuPont Award, the Rory Peck, AIB, Amnesty and One World Media awards, as well as being nominated for BAFTA, RTS and Grierson awards. Najibullah Quraishi is the director & producer at Quraishi Films Ltd.

Jamie Doran has worked at the highest levels of television film production over the past three decades. He spent over seven years at BBC Television before establishing an independent TV company. Some of his achievements include Battle for Syria; The Dancing Boys of Afghanistan; Africa Rising; Al Qaeda in Yemen; Skeletons Haven; and the controversial biography of Yuri Gagarin, the first human being in space. Recent honors including two Emmy Awards, the Alfred I DuPont Award; the History Makers Award for Best Current Affairs Documentary; One World Media Award for Best Documentary; BAFTA nominations for Best Documentary; AIB Award for Best Investigative Documentary; UNAFF (United Nations Association Film Festival) for Best Documentary Award and Alfred I DuPont Award.

Contact Information:
e: tracey@clover-films.com
w: www.clover-films.com
©2015 United Nations Association Film Festival (UNAFF)