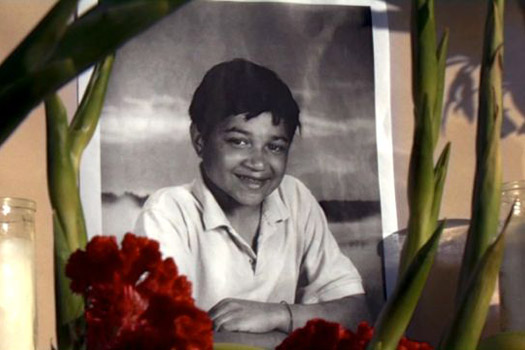 Thursday 10/22, 9:15 PM (Session 17)
Director: Marta Cunningham
Producer: Sasha Alpert, Marta Cunningham, Eddie Schmidt
Description:
In 2008, eighth-grader Brandon McInerney shot classmate Larry King at point blank range. When Larry died two days later, his murder shocked the nation. Looking beyond all the copious news coverage of this tragic event, Valentine Road tells the story of two victims: the deceased and the murderer. With keen insight, the film connects the human wreckage of Larry's and Brandon's troubled lives-both physically abused, both from broken homes, and both searching for a sense of belonging. Unraveling this tragedy from point of impact, the film reveals the heartbreaking circumstances that led to the shocking crime as well as the aftermath.
Biography:
Marta Cunningham is an accomplished actor turned first-time filmmaker. A native of Northern California, she was so moved by the story of Larry's murder that she became embedded in Oxnard and soon began filming those whose lives were touched by the tragedy. At the age of 14, Cunningham danced with the company at The Peninsula Ballet Theater. She was awarded the prestigious Baker Scholarship at Georgetown University, where she studied English literature. She then moved to Los Angeles where she worked as an actress, writer, dancer and choreographer before focusing on directing and producing.

Sasha Alpert produced the Emmy®-winning documentary Autism: The Musical, which was broadcast on HBO. A Senior Vice President of Bunim/Murray Productions, Alpert founded the company's documentary division, where she also produced Shadow Billionaire, the story of DHL founder and tycoon Larry Hillboom, who disappeared mysteriously, leaving many unacknowledged children and their young mothers to fight for a share of his vast fortune. Valentine Road is the company's third documentary. Alpert also produced Forever Hollywood, a film about the history of Hollywood. She has also produced numerous documentaries and specials for PBS, including films on film noir, poets Sylvia Plath and T.S. Eliot and on Nobel Laureate Joseph Brodsky. Additionally, she has produced specials for CBS, MTV, TBS and The Disney Channel. 

Eddie Schmidt is an Oscar®-nominated documentary filmmaker and producer of numerous Emmy®-nominated non-fiction television series and specials. Schmidt has produced five feature documentaries that have premiered at the Sundance Film Festival: IFC's This Film Is Not Yet Rated, which he co-wrote; HBO's Academy Award®-nominated Twist Of Faith; Chain Camera, a cultural precursor to YouTube; the all-star Emmy®-nominated PBS music documentary Troubadours; and Valentine Road. For television, Schmidt has produced, directed and written documentary, reality and comedy series and specials for HBO, IFC, NBC/Universal, A&E, Lionsgate, PBS, E!, Style, GSN and Current. Recent credits include directing NBC's Emmy®-nominated series Who Do You Think You Are?, and serving as supervising producer of A&E's Storage Wars New York. Currently, Eddie is Co-Executive Producer of Catfish: The TV Show.
Contact Information:
e: info@martacunningham.com
w: www.valentineroaddocumentary.com
©2015 United Nations Association Film Festival (UNAFF)