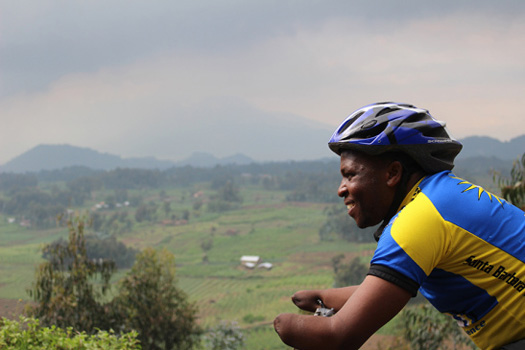 Wednesday 10/21, 4:15 PM (Session 14)
Director/Producer: Isaac Seigel-Boettner, Jacob Seigel-Boettner
Description:
After surviving the genocide in Rwanda, Frederick Ndabaramiye was the victim of a brutal retribution attack. Left for dead in the jungle, he was found by two girls who took him to the hospital. His miraculous survival was just the beginning. Frederick slowly learned to live again, re-honing his motor skills through painting. After years of recovery, he uses his story to empower others going through similar struggles. Through painting, cycling, and storytelling, Frederick now seeks to change people's preconceptions of what it means to be 'able' by encouraging us to focus not on perceived "disabilities" but on the grit that each of us have.
Biography:
Jacob Seigel-Boettner: On October 15, 1987, newborn Jacob came home from the hospital in a bike trailer. It was love at first ride. He grew up in the saddle, leading youth bike trips with his family everywhere from British Columbia to Rwanda to a four month trek across the United States in the footsteps of Lewis and Clark. Seeing the world on two wheels gave him the chance to meet teachers who he never would have encountered in a four-walled classroom: from Amish farmers to genocide survivors. Jacob's passion for two wheels is equaled by his passion for storytelling and social justice. While earning his BA in peace and conflict studies at UC Berkeley, Jacob produced short films in Rwanda and Bosnia-Herzegovina that dealt with issues of sustainable development and national identity politics.
Isaac Seigel-Boettner: From a young age, Isaac has seen the world from the seat of the bicycle. While he spent most of his childhood days in California, every summer his family took him, his brother and groups of junior high kids on bike trips around the world. Most birthdays were celebrated on foreign shores exploring other cultures and ways of life. The exploration of other traditions has carried over into his filmmaking, where the everyday routines of subjects have been a point of discovery and understanding. Isaac attended UC Berkeley for film studies, discovering new concepts of storytelling from both the blockbuster and the avant-garde.
Contact Information:
e: pedalbornpictures@gmail.com
©2015 United Nations Association Film Festival (UNAFF)